There's no shortage of terrible to-do apps in the Android Market, yet there are only a few good ones. Astrid ranks high on the short list of great Android productivity tools. This handsomely robust to-do list tracker sports a host of advanced features, and syncs with Google Tasks and Producteev.
I should point out from the outset that Astrid has previously received a good deal of praise for its former ability to sync with another of my favorite list apps, Remember the Milk. Unfortunately, as of November 2010, Astrid had to pull that feature because it violated RTM's API terms of service. That was something of a blow to my fondness for the app, but I've learned to love Astrid again because it syncs with another useful (and ubiquitous) Web-based to-do service, Google Tasks.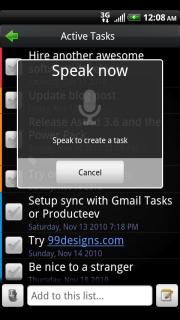 The basic Astrid app is free. With it, you get a clean, simple user interface that lets you create tasks, prioritize them, categorize them, tag them, set deadlines and recurring intervals, and even hide upcoming tasks to keep them from cluttering your view until needed. Astrid's widget is similar to that of Remember the Milk: a simple, short, unobtrusive list that takes you to the full app when you tap it.
What sets Astrid apart from the RTM and others is its location awareness, which comes in a $2 add-on called Astrid Locale. Well worth the price of the download, Astrid Locale adds the ability to filter your tasks by your location. So if you're at the office, Astrid will show you tasks you've tagged for the office. If you're at the shopping mall, Astrid will remind you to look for some new shoes. This feature is similar to Remember the Milk's location awareness, but works more flexibly and intuitively, raising it to the top of its competitive set.
In addition to Locale, Astrid offers a $5 Power Pack add-on, that adds better widgets and voice reminders, as well as the ability to add tasks with your voice (a feature that Android's built-in voice recognition capabilities render fairly irrelevant). In my opinion, Power Pack adds too little value to justify its price. But the free, basic Astrid with the $2 Locale add-on make a great combo.