At a Glance
Expert's Rating
Pros
Automatic duplexing
Affordable inks
USB, ethernet, and Wi-Fi connectivity
Cons
No on-board display or card slots
Our Verdict
Although the WorkForce 60 offers the speed, features, and cheap inks that a small office needs, it falls a bit short in print quality.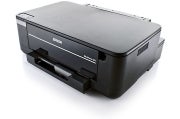 The Epson WorkForce 60 is a small-office inkjet printer whose countenance belies its power. The styling of this $130 (as of June 8, 2011) printer is boring and then some, and the control panel (such as it is) looks as if it belongs on a $60 cheapo. However, the connectivity, speed, and output are those of a $300 powerhouse.
Lifting the WorkForce 60 onto our workbench was extremely easy; the unit weighs barely 10 pounds. That's because there's hardly anything to it–making it simple in some ways, and underwhelming in others. The matte-black plastic that covers most of the unit looks ho-hum, but the construction is solid. The control panel has cheap-looking, light-gray buttons and no display. You'll find neither media-card slots nor a USB/PictBridge port.
You can hook up the WorkForce 60 via USB, ethernet, or Wi-Fi. Since it has no on-board display, you'll need to connect the printer through USB briefly to set up the wireless, but that's an easy one-time task. The software installation worked nicely on our in-house network, and the included Easy Photo Print software for formatting and printing images is just that–easy. The print driver has all the options you could ask for, including both a Fast Economy (draft) mode and a slightly better-quality Economy mode.
Paper-handling features are top-notch. An automatic duplexer is on board, as well as a 250-sheet paper input tray with a 50-sheet output deck just above it. Our only wish is that Epson would enlighten the duplexing logic so that sheets that are blank on the back (usually the last sheet) aren't pulled back in for a pointless print cycle.
The WorkForce 60 is one of the fastest inkjets we've tested–at default settings on plain paper, at least. Monochrome pages of mostly plain text exited the printer at a swift rate of 12.9 pages per minute on the PC and a still-peppy 9.8 ppm on the Mac. On the PC, a snapshot-size photo on letter-size plain paper printed in 13 seconds, or a zippy 4.6 ppm. Once you switch to Epson's own photo paper and finer settings, however, the printer slows down considerably, to 69 seconds or 0.86 ppm for the same snapshot photo, and over 2.5 minutes (0.4 ppm) for a full-page, high-resolution photo printed on the Mac.
Its print quality at default settings on plain paper is not quite as good. Black text samples look dark, but slightly soft around the edges. Color graphics seem a little grainy, pale, and pinkish. On Epson's own glossy photo paper, images appeared smooth and natural–a big improvement.
Ink costs for the WorkForce 60 are average or cheaper for an inkjet. No so-called standard-size cartridges exist. The high-capacity cartridges include an $18.04, 385-page black (4.7 cents per page). Each color costs $15.19 and lasts 470 pages, or about 3.2 cents per color, per page. A four-color page will cost 14.4 cents. The extra-high-yield supplies include a $28.49, 945-page black (3 cents per page), plus $18.04, 755-page colors (2.4 cents per color, per page), making a four-color page a mere 10.2 cents. All of those costs are based on an industry standard, which is great for comparison purposes; however, your mileage will vary depending on what you print and how much you print.
The WorkForce 60 is supposed to come with a printed user guide, but unfortunately it was missing from our review unit. Our only option was to view the same documentation online, but it isn't downloadable, and if you have no Internet connection you're out of luck. Loading a PDF version onto the installation CD would have been a much easier alternative. That said, using the printer is so straightforward that the printed "Start Here" guide should be sufficient. An HTML interface relays the printer's status.
For small-office users who just want to print, Epson's WorkForce 60 does it quickly and fairly well, and the ink costs are more than acceptable with the extra-high-capacity cartridges. If you don't need ethernet and Wi-Fi, the Canon Pixma iP4820 is worth considering, although its inks are more average-priced than bargain-priced.