For any smartphone user, adding some simple-to-use and practical apps is a great way to get the most out of a handset. Our package of essentials should be more than enough to get you started.
In this article we've assembled the top software for Windows Phone 7 handsets; if you have a different mobile OS, be sure to see our picks for Android, BlackBerry, or iOS.
You can easily find the following apps by searching the Windows Phone Marketplace. You'll need to have an account there, and the apps may cost a dollar or two. Before you buy, read the minimum requirements for each app to confirm that it will run on your phone. And remember that downloading apps counts against your monthly data-usage limit.
Top Windows Phone 7 Apps
Dropbox If you use Dropbox on your desktop PC, you already know that it's the easiest way to sync files across multiple systems. With Dropbox for your mobile device (the third-party BoxFiles app is available for Windows Phone 7) , you can quickly move files from your PC to your phone without having to plug your handset into the computer.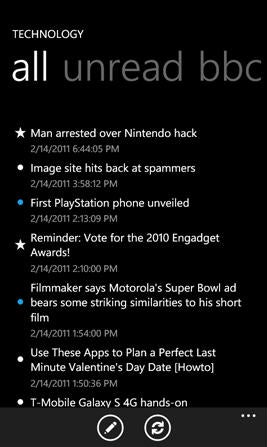 Feed Me This handy news organizer helps sort all of your news feeds into clean-looking groups. As with Pulse, you can import all of your feeds from Google Reader, so you have no need to reinput all your favorite links.
GPS Track Recorder You may never get lost in a city again when you use GPS Track Recorder, which accesses your phone's GPS and accelerometer to find your location, speed, altitude, distance, and orientation. Tiny graphs show the topography you've covered.
MyRadar Pro This gorgeous app for map nerds shows color-coded weather patterns in 10-minute intervals, so you can see how quickly systems are moving. It's especially useful for outdoor types and budding meteorologists.
Netflix Just grab some popcorn and settle in: Now you can watch David Bowie's Labyrinth (or other guilty pleasures) on the bus, in the airport, or anywhere, over and over again!
Poynt If you're exploring a new town and you want to know what establishments are close to your location, Poynt is the perfect app for you. It can find nearby businesses, restaurants, gas stations, and even people and events. It will give basic weather info about your location, as well.
Shazam When you hear a song and you just have to know who the artist is, Shazam saves the day. It will "listen" to the song for a minute and then deliver surprisingly accurate results–it works even if your musical tastes are a little eccentric.
Social Lookout If you run a small business, keeping track of topics trending on Facebook, on Twitter, and on Bing or Google News might be more valuable than following individual people. You can consolidate all of that information into lists using this app.
Super Password With this password-management app, you can store all the passwords you need on your mobile device under a high level of encryption, so if your phone disappears, the chance of someone else finding all that precious information is minimal.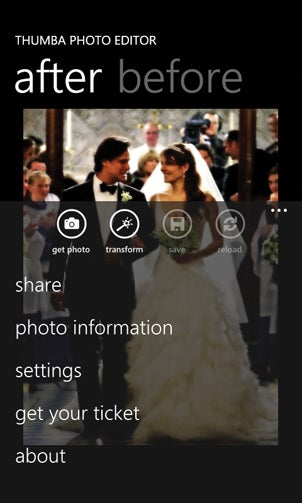 Thumba Edit photos using effects, filters, adjustments, and borders. This app has more options than you'll likely ever use, so doctoring photos becomes as much of an art as taking them.
Torrent Buddy Connect to the popular uTorrent file-sharing client, and see real-time progress updates on all of your current downloads and uploads. Torrent Buddy even allows you to start new torrent downloads remotely so that your content is ready for you by the time you get home.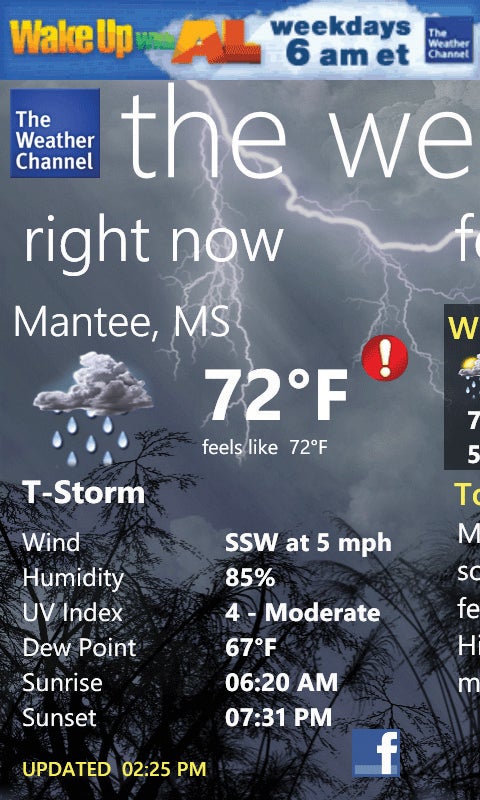 Weather Channel The most trusted name in weather updates has an easy-to-use app. Weather news refreshes every time you move between screens, and weather tips and trivia can help you pass the time if you happen to be caught in a storm.