As of Friday, the semi-ubiquitous red boxes of Redbox offer video game rentals in addition to Blu-ray and standard DVD movies. Each of the 21,000 Redbox kiosks that has games will carry between 22 and 28 game titles, and provide avid gamers a chance to save some cash.
Renting a game from Redbox costs more than renting a movie. A standard DVD costs $1 per day, a Blu-ray movie is $1.50 per day, and video games are $2 per day. That doesn't seem like much of a bargain.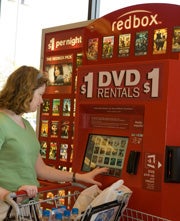 I have had Madden 11 since it launched back in August. I paid $50 for the game, but had I rented it all of this time I would be going on $600. I think Madden football is the primary reason for owning any gaming system–but I don't like it $600 worth.
However, Madden 11–or at least my love of Madden 11–is not a good measure of the value of Redbox game rentals. Game prices vary by title, and gaming system, but most premium titles tend to be $50 or $60. At $2 per day, the break-even on most premium game titles is about a month which is much longer than many games see any action.
Buying any game is a gamble. You can use reviews and recommendations to make more intelligent purchasing decisions, but ultimately, you might spend $60 and hate the game, or you might spend $60 and love the game so much that you basically complete it in a weekend. Either way, you are basically out the $60.
You can't return an opened game, but you can take titles you don't like, or that you are just done with and trade them in at GameStop, Amazon, or other game retailers to recoup some of your losses. But, a $60 game often sells pre-owned for about half of that, which means the store is buying it from users for even less. Assume your trade-in value is somewhere around a third of the price of the title–at best.
That means you're parting with $40 for the privilege of playing the game. That is 20 days in Redbox time–almost three weeks. That is plenty of time to either complete a game if it's awesome, or return a game if it sucks, and move on.
With only twenty-something slots to share between multiple game consoles, Redbox titles will be limited. But, for the titles that are available from Redbox, renting the game at $2 per day is a way better investment, and significantly less of a gamble, than buying it for $60.
If you love the game, or it turns out to be one of those games you will want to play indefinitely in online multi-player mode (like Call of Duty, or Halo Reach), you can always go pick up a pre-owned copy for about half off from some sucker who didn't use Redbox.