President Barack Obama knows how to use technology to win elections, and in the run-up to the 2012 campaign he is banking on getting a boost from social media. He even plans to send some Twitter updates himself.
Obama's 2008 campaign changed the way politicians use technology to engage with voters, and this time around Obama will be taking a hands-on role.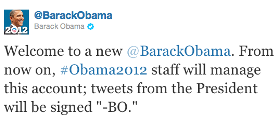 Obama's Web site says the president will mark his personalized tweets with his initials, "BO", so his more than 8 million followers can differentiate his updates from those of the Obama for America staff.
The downfall of Rep. Anthony Weiner, D-N.Y., who sent sexually charged messages over Twitter, suggests politicians in the future will be much more careful in using social media, especially when they handle the accounts themselves.
The "Weinergate" scandal caused a significant drop in tweeting politicians. According to VentureBeat, after the scandal "the number of tweets by Republican members of Congress dropped by 27 percent, while those of Democrats dropped by 29 percent."
Let's leave it to Obama to reinstate Twitter's positive influence on U.S. politics.