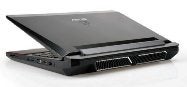 The Asus G74Sx gaming laptop, now available for advance order, boasts the latest hardware specs plus a refreshingly unflashy design. This new addition to Asus' Republic of Gamers series features a quad-core Intel Core i7 processor, Nvidia graphics card with 3GB of video memory, a 3D display option, and other features for hard core gamers — without the spray-painted glossiness and showy lights of typical gaming laptops.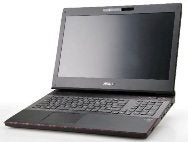 Inside the G74Sx's matte chassis is generous 12GB of RAM (upgradable to 16GB), 1.5TB storage (via dual 750GB HDDs spinning at 7200rpm), the Nvidia GeForce GTX 560M video card, and the Intel Core i7 2630QM Sandy Bridge processor. Considering also the laptop's 17.3-inch full 1080p HD (1920 by 1080 pixels resolution) display, backlit keyboard, and Blu-ray drive, you've got one mean gaming and entertainment machine here.
Other unique touches to the G74Sx design are its easy upgradability and laptop cooling technology. The laptop has a quick access hatch so you can get to the two hard drive bays and four memory slots easily without tools. Asus also promises the G74Sx will stay cool at all times due to the thermal design that draws cool air from the front of the laptop out through the back.
As with most gaming laptops, these features will cost you a pretty penny. If 3D's your thing, the G74Sx-3DE model goes for $1979 (after $80 instant rebate) and comes with a Blu-ray burner and 3D glasses. The G74SX-A1 is $1745 (after $50 rebate) and features a Blu-ray combo drive. Both are available for pre-order at Excaliber PC and are expected to ship June 28.