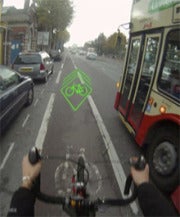 Here's the most obvious thing you'll read today: Riding your bicycle on a busy road can be dangerous. But one UK design student is looking to make things a little safer for bicyclists everywhere..
Known as BLAZE, the device was created by 25-year old University of Brighton student Emily Brooke for her final-year product design project. The inspiration for BLAZE came about due to Emily's desire to tackle some of the safety problems that cyclists face on city streets, such as drivers not being able to see bikes in their blind spots. The goals for the BLAZE project were to increase "visibility, footprint, and ultimately the awareness of the bicycle." Sounds good to me.
The BLAZE device is battery-powered: You mount it onto your handlebars, and it projects an image of a bicycle onto the road ahead. The projected image, which is a bright laser-powered symbol of a bicycle, is visible day and night and can even flash to make sure the projection gets noticed.
You can't get a BLAZE just yet–Emily is now preparing to head to Babson College in Massachusetts to work on developing the product further–but here's hoping we'll see it on store shelves soon!
[via Brighton University]
Like this? You might also enjoy…
Twitter – Facebook – RSS | Tip us off | Follow Chris Brandrick