Last month, Microsoft took the wraps off "Mango," a significant update to Windows Phone 7. Mango includes more than 500 new features that are designed to improve multitasking and to make apps and the OS work together more efficiently. Mango essentially takes the most likable features of Windows Phone 7 and improves them with new features, tweaks, and refinements. Mango is coming this fall, and it will be free for all Windows Phone 7 customers.
Video: First Look at Mango's New Features
Microsoft packed quite a few features and enhancements into this update, so I tried to focus on the most important ones. Let's dive in.
Threaded Messaging, Linked Inboxing, and Multitasking
Microsoft probably should have had these three essential features in place at the launch of Windows Phone 7; nevertheless, I'm glad to see them included in the Mango update.
In the messaging app, you can easily switch between SMS, Facebook chat, and Windows Live Messenger within the same thread. This concept sounds useful, though I don't use Facebook chat or Windows Live Messenger. At least for me, AIM or Google GTalk integration would be much more useful. Still, messaging worked smoothly when I switched from SMS to Facebook chat with my friend. If you get tired of texting, you can pull up your friend's Contact card (more on that in a bit) and call them.
Email messages are organized by conversation, with replies to a thread consolidated into a single view that you can follow more easily. You can make multiple inbox groups, too: If you have two work-related inboxes, for example, you can group them together to see all of the messages in one place, and you keep your work email accounts separate from your personal email. You can also pin any of your inboxes to your homescreen for quick and easy access.
Multitasking is an overall improvement. As Microsoft announced in April, Mango extends multitasking to third-party apps as well as to Internet Explorer 9. You can quickly switch among recently used applications by pressing and holding the back button. All of your open apps are elegantly displayed in chronological order based on when you last used them.
Enhanced Hubs
In Mango, all of the hubs have been enhanced with some sweet new features. For example, the People Hub will connect Facebook, Twitter, Outlook, LinkedIn, and Windows Live messenger in one place, so you won't have to jump from app to app to communicate with your friends and colleagues. You'll also be able to group and categorize your contacts based on how you think of them–friends, coworkers, enemies, or whatever.
The Picture Hub now has a tagging system, making it easier for you to organize your photos. When you share your photos on Facebook or SkyDrive, the Photo Hub will automatically detect any photo of a person and ask whether you want to tag it. It doesn't handle face recognition, however, so it won't perform automatic tagging.
YouTube, Last.fm, and Slacker are now integrated into your Music + Video Hub, so you can easily see a list of the videos you watched or the songs you listened to on those services. There's even a playlist creator in the Zune Player called Smart DJ (as opposed to iTunes Genius? Hmm.) that creates mixes based on similar songs in your collection. This has been a feature of the Zune desktop software for quite some time–and a welcome addition to Windows Phone 7.
Microsoft is aiming to make Windows Phone the phone for business customers. Windows Phone 7 owners will be able to save and share Office documents through Office 365 and Windows Live SkyDrive, ensuring them access to the latest documents when and where needed. One nice upgrade: You can now pin any Microsoft Office document–such as a PowerPoint presentation or an Excel spreadsheet–to your Start screen. We'll take a closer look at the Office Hub's new features in the next few days, so stay tuned.
Improved Live Tiles, Contacts, and Groups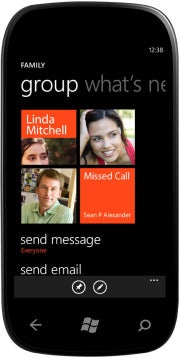 Live Tiles–the always-updating widgets that you can customize and rearrange on your homescreen–will have more real-time information in Mango. You'll also be able to make personalized Live Tiles for individual friends or for a group to add to your homescreen. If you want to keep an eye on your partner or track what your boss is doing, you can pin that contact to your Start screen and see at a glance what they're writing on Facebook.
The updated 'Me' tile lets you share status updates (via Facebook, Windows Live, and Twitter) and check-ins (via Facebook). You can view notifications, such as Facebook messages or Tweet replies, in a single place. You can see your friends' status updates and activity across multiple social networks. And of course, you can pin your own tile to your Start screen for quick access. Like the other Live Tiles, the new Me tile will display more information–for instance, indicating when you have a missed call or a new text message.
In Mango, you can group your contacts together by how they relate to your life–family, friends, coworkers, frenemies, and the like. It automatically placed my brother, my mom, and me in a group based on our last names. But if you have a common last name (like Smith), I wonder whether Windows Phone will think that every Smith in your phone is related to you. You can pin Groups to your Start screen, just as you can individual contacts.
Smarter Apps
One characteristic that Microsoft hopes will differentiate Windows Phone 7 from iOS and Android is its approach to apps. A new feature called App Connect will tie apps to search results in Bing.
Apps on other platforms are like silos and don't interact with other aspects of your phone, Microsoft told us. App Connect will incorporate the information from each of your apps–whether it be a music app or a weather app–seamlessly into Search. Microsoft calls this the "total app experience." So, for example, if you're searching for a movie, App Connect will integrate ticket-purchasing information from Fandango along with your standard search results for movie times, reviews, trailers, and similar data.
Since Mango isn't out in the wild yet, developers haven't yet integrated these APIs into existing apps. I tried to search for local movie times to see whether information from Fandango or IMDb would show up, but it didn't work.
Internet Explorer 9 and Bing
Microsoft is playing a bit of catch-up by adding hardware-accelerated graphics and HTML5 to the mobile version of IE 9, but I'm happy to see this update. Unfortunately, there's no Adobe Flash Player support this time around. I tested a few HTML5 sites, such as http://lost worldsfairs.com, and they loaded quickly and smoothly. Scrolling was especially fluid, and I liked being able to share webpages quickly and easily with people in my social networks through the browser itself.
Mango includes a few new features that make browsing even easier.One example is Local Scout, which uses GPS to recognize where you are, and then provides you with hyperlocal search results based on your preferences. The idea of Local Scout is excellent, especially for travel, but it needs some refinement. If you're looking for a restaurant, Local Scout will list restaurants in the Eat+Drink guide within a 25-mile radius. The list shows the address, type of food, proximity, price, and rating. You can then dive even deeper by clicking on the restaurant's name to open a Quick Card that provides a snapshot view of important information about the restaurant–reviews, directions from your current location, hours, upcoming events, and so on.
But what if you're just in the mood for Thai food? Unfortunately, you can't pare down your search results to list restaurants by type of cuisine. The same goes for the Shop and See+Do guides: You can't see search results for bookstores only or children's museums only, respectively.
One cool and useful feature in Bing is Music search. Simply hold your phone up to a speaker, and Bing will identify the track that's playing and give you information about the artist, the song, and where to buy it–sort of like Shazam on iOS and Android. Bing Music Search identified my Rush songs immediately (hey, don't judge!), but it couldn't identify songs from my more obscure collection.
Visual search is sort of like Google Goggles, but built into the Windows Phone platform. Say you're in a bookstore; you see a book, and you want to know more about it. If you point your phone's camera at a book cover, Bing will not only search for reviews, prices, and more information about the book, but it will show you information from your apps, using App Connect. I was really impressed at how quickly it read book covers and CD cases.
I took a picture of a barcode on the back of some lip balm. It took Bing a few seconds to scan and register the barcode. Though it accurately read the barcode number, it didn't give me any information beyond that. I had the option of searching for the barcode number, but I couldn't get any solid search results from it. It quickly and accurately read every book cover I put in front of it, and then it provided a useful list of places where I could purchase the book, along with comparative price information.
Another neat feature is the ability to translate text using Bing's visual search. I can imagine this being incredibly useful if you're in a foreign country and can't read the signs. Bing recognizes a fairly wide range of languages, too, from Lithuanian to Chinese Simplified.
Bottom Line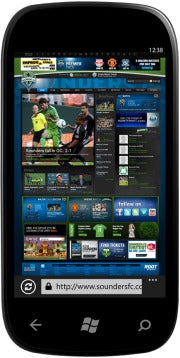 You've probably seen the Windows Phone 7 ads depicting people on their phones walking into trees or not paying attention to their partners because they're constantly staring at their phones. This idea that Windows Phone 7 makes finding information on your phone easier wasn't so apparent in the initial release. But now, with the ability to pin more information to your Start screen, search across applications, and further integration between your social networks and contacts, I'm starting to buy what Microsoft is claiming.
I wish that Microsoft had included a better software keyboard (I can't stand typing on the current keyboard) and tethering. I'm also not too fond of the lack of customization and openness in the platform. Wouldn't it be nice to be able to put some pretty wallpaper behind the Start screen? Or be able to download a third-party keyboard?
Still, overall I'm quite pleased with Mango. I love how fluid and consistent the interface is throughout the phone and its apps, and I can't wait to see what developers do with App Connect. Now, the next step is to get some killer hardware to go with this OS. While Mango is a very strong update, it can't win over Android and iPhone enthusiasts if it relies on weak hardware. With dual-core and 4G Android phones and the new iPhone 5 right around the corner, the next-generation Windows Phone 7 devices must have specs that keep them on a par with the competition; otherwise, consumers will lose interest in the platform very quickly.