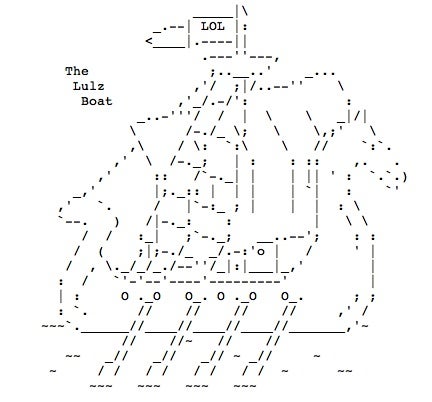 The hacker group LulzSec denies it has stolen a large amount of personal data of U.K. residents from that country's 2011 census. The denial comes after someone claiming to be from the hacker group posted a notice online that said the hackers obtained the entire database of the U.K.'s 2011 Census. If true, it would have meant LulzSec had the basic vital information of a large number of British citizens including names, addresses, dates of birth, levels of education, and marital and employment statuses.
In recent weeks, LulzSec has been responsible for taking down the websites of the Central Intelligence Agency, an organization affiliated with the Federal Bureau of Investigation, the U.S. Senate, and, most recently, a police site in the U.K. LulzSec also recently announced a new campaign named #AntiSec, calling on hackers all over the world to "steal and leak any classified government information." Given the group's recent campaign and past actions, it was not improbable for the group to turn up with data stolen from British government servers.
The claim set off a flurry of reports about the supposed heist, and British census officials issued a statement saying it was investigating the matter, but had no evidence to suggest its network had been infiltrated.
Pastebin Problem
While the purported online notice from LulzSec about the 2011 U.K. Census data was troubling, there were a few inconsistencies that suggested it was a hoax. As usual, the online notice was posted anonymously to Pastebin, a popular site among programmers to post pieces of code for short periods of time. But LulzSec typically links to any of its Pastebin notices through its website and Twitter feed, and this time it had done neither.
"Just saw the pastebin of the UK census hack. That wasn't us – don't believe fake LulzSec releases unless we put out a tweet first," the group later said on Twitter shortly after PCWorld and other media outlets contacted the group for a statement.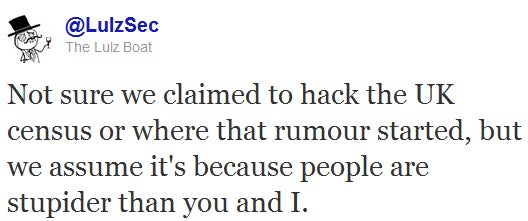 Arrested?
The phony U.K. Census claim may not be the only bogus LulzSec story to come out on Tuesday. Police in the U.K. on Tuesday said they had arrested a 19-year-old man in relation to the LulzSec hacks. The hacker group, however, said on Twitter shortly after reports of the arrest that none of its members were in police custody.
Connect with Ian Paul ( @ianpaul ) and Today@PCWorld on Twitter for the latest tech news and analysis