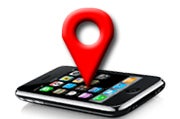 We can't stupid-proof ourselves to prevent losing the car keys or the TV clicker, but when it comes to our iPhone, a glimmer of hope exists. Apps that claim to track your iPhone, sound a remote alarm, or lock up your data from afar could save your bacon when your precious phone goes missing. But do they really work? If they do, how well? And how much will it cost to track down your missing iPhone–when it could simply be buried between two sofa cushions?
I tested three iPhone tracking apps–Apple's Find My iPhone, GadgetTrack's iPhone app, and SafetyWeb's iHound–to see how well they worked. The cost of the apps ranged from free to a monthly subscription fee, and in my tests they delivered varied success rates when it came to tracking down my iPhone.
Apple's Find My iPhone locates an iPhone (click to zoom).

Apple's Find My iPhone Excels
Apple's Find My iPhone feature debuted with the iPhone 3GS in 2009. It formerly required a subscription to Apple's MobileMe service, but now it's offered for free to owners of an iPhone 4, iPad, or iPod Touch running iOS 4.2 or higher.
Like all of the services and apps I tested, Find My iPhone must be set up before you lose your iPhone. Unlike the other solutions, however, Find My iPhone doesn't require the installation of any software; you simply have to enable it in your iPhone's settings menu. (Directions are available on Apple's website.)
Once Find My iPhone is enabled, it runs in the background until you need to locate a lost device. You can track a device either on the Web or by using Apple's free Find My iPhone app. The app can be downloaded to another iOS device (your iPad or a friend's iPod, for example) to which you still have access. To access tracking via the Web, you sign on to Apple's MobileMe site using your existing Apple ID. (Although you use the MobileMe site, you do not need a MobileMe account. Apple has not said how the upcoming transition to iCloud may affect the Find My iPhone service.)
Once you sign in, the site instantly takes you to a map that displays the location of your iPhone. As with all the apps and services tested here, Find My iPhone uses a mix of GPS, Wi-Fi data, and cell tower data to locate the phone. The use of all of these services is helpful when you need to locate a missing phone and a GPS signal can't be established–for example, inside a building. You do have to have Location Services enabled on your iPhone to use all three services. When it comes to battery life I did not notice an appreciable battery drain durring my testing.
In most of my tests, Find My iPhone's accuracy was impressive: I was able to use it to track my iPhone 4 to a specific parking space in a sizable lot outside of a Home Depot two towns away from my home. It also accurately placed my iPhone outside in a local park, inside a small neighborhood store, and traveling on various roads. It did stumble on one test, however: It identified my iPhone's location as being about half a block away from its specific location in a busy suburban neighborhood. With the location Find My iPhone supplied–which is displayed as blue dot on a map, not as an actual address–I was unable to locate the phone.
Thanks to its Apple origin, Find My iPhone boasts a feature that its rivals cannot: It allows you to remotely wipe the contents of your iPhone if you suspect that it has fallen into the wrong hands. Find My iPhone also allows you to remotely lock your phone so that an unwanted user can't access it, and it lets you display a customizable message on its screen or play a sound from it that could either deter a thief or help you locate it.
iHound Offers Multipronged Approach
SafetyWeb's iHound is available as an app both for the iPhone and for Android phones; once it's installed on your devices, all of them can be managed from the app's Web-based Security Dashboard, which is accessible from any device with a browser. The iPhone app is available for free as of this writing (for a limited time only), but it normally costs $3.99. The app comes with 3 months of free monitoring service. You can extend your subscription through an in-app purchase, with prices starting at $3.99 for 3 months.
The iHound Security Dashboard suffers a bit from an overcrowded interface; it's packed with information touting new features in the app, such as its new location-based alerts system (discussed later). You have to scroll down a bit to get to the tracking information, which is unfortunately displayed in a small window. You can, however, click to view the history of your last known locations, which are displayed in a bigger, pop-up window.
iHound's accuracy was very good; it easily located my iPhone in a nearby park, and I was also able to track it down in a neighborhood store. It stumbled a bit on a few other tests: It placed my iPhone more than a block away from its true location in a residential neighborhood, leaving me unable to find it–just as Apple's Find My iPhone did. iHound also stumbled when trying to locate my iPhone in the Home Depot parking lot; it placed it in an adjacent parking lot instead.
iHound tells you how accurate it believes its tracking information is, and the app was always correct in its estimate. But when the estimated accuracy is within 94 meters–a little over 300 feet–it's difficult to locate a device the size of an iPhone. That's when it might be helpful to remotely request your iPhone to play a noise, such as a siren or car alarm sound, or the "Stop! This is iHound" message.
iHound also struggled to provide an estimated address: That section of my security dashboard consistently said, "Could not determine a street address." SafetyWeb says that this is an issue with its mapping provider and that they plan to switch providers in the future. I did like the speed with which iHound worked, though. It quickly located my iPhone when I signed in, and easily found an iPhone on the move when I clicked the option to refresh the last known location. This is very reassuring when you first realize you've lost your iPhone: You want to know where it is as soon as possible. I also like the ability to view a history of last known locations on a map, which helps recreate your steps, and could identify where you lost your phone.
Like Find My iPhone, iHound lets you send a push notification to the lost device. You can compose your own message, or select one of its automated options. You also can play a noise, such as a car alarm or a voice shouting "Stop! This is iHound!" on the phone. The tester using my iPhone earned several stares in a neighborhood park when I tried this feature. To help you recover a lost iPhone, iHound offers stickers that you can place on the phone, which let someone who's found the device get in touch with you via iHound.
iHound has a variety of location-based features in addition to its tracking tools. For example, it offers Geofencing alerts, which let you know when a phone has passed a certain location. You could use this feature to get an alert when your child arrives at school each morning, say. It also allows you to set alerts to share your location via Facebook, Twitter, and Foursquare.
GadgetTrak Snaps a Photo
GadgetTrak, a $3.99 iPhone app, takes a slightly different approach to locating a lost iPhone; it also helps you identify who might have taken it, thanks to its ability to snap a photo of someone using the phone. But its tracking features weren't quite as impressive as those offered by Find My iPhone and iHound. Like those two products, GadgetTrak runs in the background on your iPhone, waiting until you need it before springing into action.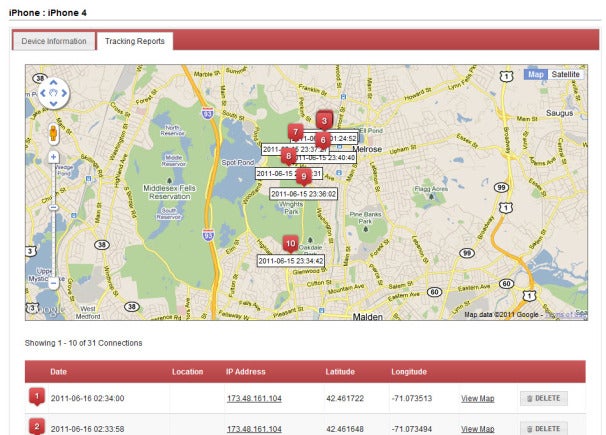 That action can be monitored from GadgetTrak's site, where you log in to track your device. Unfortunately, once you log in, you can't always immediately locate your device. GadgetTrak locates your phone at preset intervals, which can only be changed from within the iPhone app itself–not from the Web controls. If you've left the interval set at the default 30 minutes, you could be waiting for a while before you locate your device. I wish GadgetTrak were more like iHound and Find My iPhone in this respect, as both of those products let you access updated tracking info at any time while using their online controls.
You can, however, set GadgetTrak's intervals to as little as one minute, and it will alert you at that interval whenever tracking is enabled and your iPhone is on the move. You can track its movements on a map, and you'll receive an email notifying you of the new tracking data. GadgetTrak was very accurate in locating my iPhone in most of my tests, accurately placing it in a nearby park, in a parked car, and on a street in a residential neighborhood. It stumbled on my Home Depot test, though, reporting that the phone was on a nearby highway instead of in the store's parking lot.
GadgetTrak also took considerably more time to report its location than did the other products I tested. Even when I had the tracking interval set to one minute, GadgetTrak still did not deliver as immediately as did the other services: I always had to wait for it to deliver the tracking info to me, rather than getting it myself.
GadgetTrak does allow you to send a push notification to the device, which can get you speedier results–if someone has their hands on your phone. Once the user of your iPhone dismisses the notification, which appears as a meeting reminder from GadgetTrak, the app tracks its location. If you've paid $1 (in-app) for the Camera Reports option, GadgetTrak also will take this opportunity to snap a photo with both the front and rear cameras. This is your chance to see who is using your phone, and to scour the surroundings to see if you might be able to locate it. You must, however, pay the $1 in advance for this feature to work.
Bottom Line
Find My iPhone is good for iPhone owners who are looking for a tracking solution only and are not interested in bells and whistles.
iHound is good for parents who want to put an insurance policy–of sorts–on the iPhone they bought for their kid, and also gives parents the ability to keep tabs on their child.
GadgetTrak is the tool for people whowant not only to track their iPhone, but to see who has it.
None of these services offered perfect iPhone tracking, and none of them helped me locate a lost device in all situations. And none of them will work if a thief decides to power off your iPhone. But all of them delivered plenty in the way of peace of mind. I like iHound's speed and its additional geolocation features, and I was impressed with GadgetTrak's photo-snapping prowess. Keep in mind that you don't have to choose just one: You could run all of these apps at once. But if I did have to choose, I'd go with Apple's Find My iPhone. Not only did it perform the best, acing most of my tests, it's free.