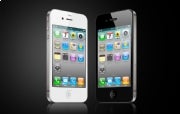 The iPhone 4's 5-megapixel camera is now officially the most popular camera used on Flickr, according to the photo sharing site's own statistics. The iPhone 4 outclassed Nikon's D90 for the top spot in Flickr's rankings, and it's the only phone in the top 5, alongside three other Canon EOS cameras.
Since its launch in 2010, the iPhone 4 has seen a slow and steady rise in popularity on Flickr. The device is followed by the Nikon D90, Canon EOS 5D Mark II, Canon EOS Digital Rebel XSi, and Canon EOS REBEL T1i.
According to Flickr's stats, Apple gear also dominates the cameraphones category, with four out of five entries going to the iPhone 4, 3G, 3GS and iPod Touch. Although Android phone outnumber iPhone sales, the HTC Evo 4G (number 4) is the only Android smartphone in the rankings.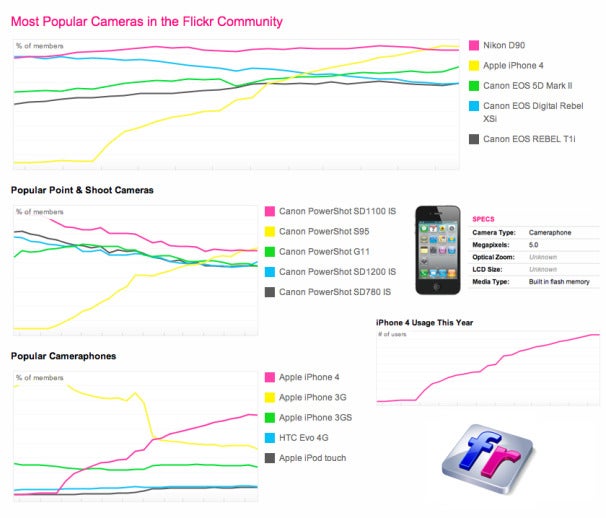 Flickr's stats, however, are only an indication of the popularity of a certain camera or phone, as there are a few caveats on how the numbers are calculated. Flickr notes that cameraphones in its rankings are underrepresented, as "the graphs are only accurate to the extent that we can automatically detect the camera used to take the photo or shoot the video (about two-thirds of the time)."
Flickr's incomplete data means the iPhone 4 could have taken hold of the top spot in the camera division much earlier if iOS-level limitations over camera data were not in place. On the flipside, the iPad 2 is not a popular photo-taking device on Flickr's pool of users. Despite millions of tablets sold to date, only around 75 daily users are registered per day.
Follow Daniel Ionescu and Today @ PCWorld on Twitter