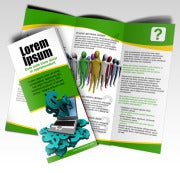 Once you've created great business cards, it's time to make brochures to show off your company. Brochures let you showcase your business–your products or services and your purpose. They hold more information than do business cards, so you can include additional contact information. Instead of including only your usual social media handles for Twitter and Facebook, for instance, consider adding a link to your Yelp page.
Step 1: Design
The industry standard for brochure design is either QuarkXPress 9 or Adobe InDesign–both of which cost hundreds of dollars. Luckily, you don't need these programs to design professional-looking brochures.
Microsoft Word, while not ideal for desktop publishing, will work if you've got the right template. Don't rely on Word's preloaded templates–Microsoft's Office website has over 80 free brochure and booklet templates for both Word and Publisher. You can find additional free Word brochure templates on HP's website for small and medium-size businesses.
Mac users can design attractive brochures in Apple's iWork Pages. Pages features basic templates, but additional free iWork templates can be found on the iWork Templates Blog and on iWork Community.
Looking for a desktop publishing program? Try PagePlus Starter Edition, which is free and features master pages, column flow, and the ability to move and lock text boxes and images. The full version of PagePlus has more options and costs $100.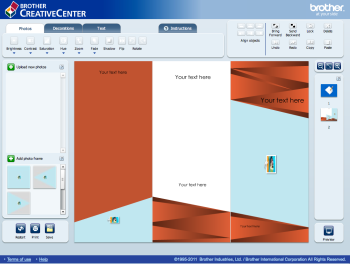 If you'd rather stay online, MyCreativeShop is an online brochure-maker with hundreds of customizable brochure designs. The site has two-panel and three-panel brochure designs, as well as 4-, 8-, and 12-page booklet templates. Each design template costs $69, but you can try out a design for free before you purchase it.
HP's Marketsplash also offers brochure designs–over 250, in fact–that you can customize using HP's online tool. Epson's CreativeZone has a number of free downloadable trifold brochure templates, as does Brother's CreativeCenter.
Step 2: Printing
If you decide to print brochures yourself, it's best to have a printer that supports two-sided (duplex) printing, such as the HP Officejet 6000 Wireless. The decision to print on your own will mostly depend on how many brochures you want to print. If you're printing over a hundred brochures, you may want to consider outsourcing because many print shops will include folding or assembly.
To find out if your printer supports duplex printing, go to the the Printer Properties menu and look for an option that says something like "Two-sided (Duplex) Printing" or "Print on both sides." If you can't find such an option in the menu, your printer doesn't support duplexing, or you may need to download additional drivers. Because brochures are always two-sided, automatic duplex printing will save you the hassle of having to flip over each sheet manually.
Automatic duplexing works best with 16-pound to 28-pound paper, but can work with paper that has a basis weight of up to 32 pounds.
You can outsource brochure printing to an online print shop such as Vistaprint. Vistaprint starts at $290 for 500 brochures, and that price includes full color on both sides. Additional features will cost you just a little extra: $4 if you want to upload a photo or design, $1.50 for a map, and $1.50 if you want a PDF version as well (prices are subject to change, of course).
Some of the more well-known printing companies are considerably more expensive: FedEx Kinko's starts at $1.03 per brochure (based on an order of 1500), though that price includes double-sided printing in full color, as well as folding.