A professional-looking letterhead can make all the difference in how your business is perceived. If you do a lot of work with clients, branded stationery will streamline your communication and help your business look all the more professional.
Step 1: Design
Your letterhead should be simple and uncluttered. Your business's logo (or perhaps a modified version of your logo) will probably play a large role in the design.
The rest of the design should be simple–don't muddle it with too much contact information. One piece of contact information (phone number or email address if it's a letterhead; physical address if it's an envelope) should be all you need.
If you're looking for inspiration, check out these 83 creative letterhead and logo designs from YouTheDesigner.
HP's Creative Studio website features several free "business kits," which include templates for matching business cards, letterheads, and mailing labels. If you can't find anything there, Epson's CreativeZone also has matching sets, as does StockLayouts–though the latter's sets will cost you $39 per design.
You can also create your own letterhead template in Microsoft Word using your company's logo. In Word 2010, go to Insert, then Header and Footer. Insert your logo into the header section and align it in the middle. Put additional text (contact info, slogan, and the like) in this section, and put additional info, such as your physical address or Web address, in the footer section.
Step 2: Printing
Printing your own stationery is pretty straightforward, as no special paper or printer settings are needed. Printing on envelopes is a little trickier, however. Still, most modern printers can handle different-sized paper–including envelopes and notecards–with ease, thanks to straighter paper paths and manual-feed slots.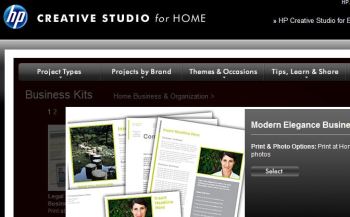 If you're looking for a whole stationery package–letter-size paper, envelopes, and notecards–you may want to consider checking out your local print shop. Not only can they help you design your stationery (for a nominal fee, of course), they may be able to give a discount if you order sets in bulk. Local print shops are best for people who have a rough idea of what they want–being able to describe your vision to another human being (instead of an online service) will certainly come in handy.
You can also outsource letterhead printing–Vistaprint offers letterhead printing — $110 for 250 sheets, and envelope printing at $1 per envelope.
If you're just looking for envelope printing, EconoEnvelope offers single-color, custom-design envelope printing starting at $38 for 500 envelopes, and the site also offers features such as windowed envelopes ($40 for 500) and envelopes with security tinting ($43 for 500).