We've been hearing a lot lately about mobile wallet services that let you pay for stuff simply by swiping or tapping your smartphone at checkout–no cash or plastic cards required. Sure, it sounds nifty–think of all the dove holograms we'll save–but when will tap-and-pay go mainstream? According to Google executive chairman Eric Schmidt, within twelve months.
A Financial Times report says Schmidt made the prediction on Wednesday at the Cannes Lions advertising festival in France. The technological advancements required to make mobile wallet systems a reality are almost in place, said Schmidt, who spoke at the conference.
Mobile phone vendors are adding Near Field Communication (NFC) chips to their handsets. NFC technology enables two-way interactions between a mobile device and a bank, retailer, government agency or some other institution. NFC-ready smartphones can exchange information with other NFC devices, as well as read data from smart tags in posters, stickers, and other items, Google says.
Google last month launched Google Wallet, an NFC-based mobile payment system built into the Android 2.3 operating system. The service is limited currently to Google's Nexus S 4G phone on Sprint, but that will change soon. Google is urging payment processors to upgrade a third of their terminals to accept NFC transactions, a move that would spur widespread adoption of the technology, Schmidt said.
Because so many players are required to make the mobile wallet system work, however, Schmidt can't provide a more exact timetable, the Financial Times reports.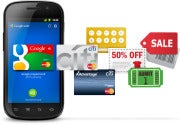 "I judge that based on how long I think it takes, because the terminals are available now, the software is available now or this summer," Schmidt said.
Another question is whether consumers are ready for NFC, at least in the U.S. A recent study by Retrevo, a consumer electronics shopping site, found that nearly 80 percent of U.S. consumers either aren't interested in mobile wallet features, or aren't familiar with the technology.
Contact Jeff Bertolucci via Twitter (@jbertolucci ) or at jbertolucci.blogspot.com .