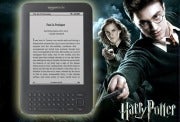 Little Harry Potter is all grown up, and finally the best-selling series of novels will be available in e-book format available on e-book readers including the Kindle, Nook, and Sony's Reader Daily Edition.
Harry Potter author J.K. Rowling announced the creation of Pottermore on YouTube. Within 36 hours of launching, Pottermore.com had over one million visits within 36 hours of launching, CNN reports. Read more about Pottermore here.
Pottermore promises an interactive experience for Harry Potter readers in "a safe and friendly environment." (Ironically, Pottermore will be run by every hacker's favorite target: Sony.) Most of Pottermore is a glorified exclusive portal to download Harry Potter e-books and audiobooks — which will be DRM-free and readable on all devices — but Rowling promises "a few crucial additions," including the submission of comments, drawings and "other content." She added that she will be "sharing additional information I have been hoarding for years about the world of Harry Potter."
Registration for Pottermore begins July 31 — Harry Potter's birthday — and the first million registrants will be granted early access. Others will have to wait until the broad release, set for October 1.
Up until now, Rowling was against digitally publishing the Harry Potter series, but had a change of heart. "It is my view you can't hold back progress. E-books are here and here to stay. Later than a lot of people, I for the first time downloaded e-books and it's miraculous for travel and for children in particular. I feel great about taking Harry into this new medium," Rowling said at a press conference in London.
Now e-reader-toting bibliophiles who didn't download bootleg Harry Potter e-books have a legit portal to accessing those bulky doorstops on pencil-thin devices.