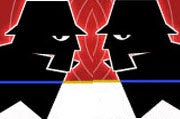 In the midst of all the high-profile hacks rolling out almost daily, a hacker civil war is also under way. It's become almost as hard to keep up with the number of attacks carried out against hackers as it is to track the plethora carried out by hackers. Multiple hackers have claimed responsibility for disabling the Lulzsec website this week, while other hacking groups have made it their mission to reveal the real-world identities of Lulzsec members.
It's likely no coincidence that Lulzsec seems to be the primary target of an emerging hacker insurgency. The group has been garnering all sorts of publicity lately for a virtual hacking free-for-all on targets ranging from small business sites like magnets.com to the Central Intelligence Agency, along with random data dumps of personal information from assorted sites. Those hackers who target other hackers could be motivated by a sincere sense of retribution-to teach Lulzsec a lesson for "going too far" — or perhaps it's just about jealousy.
"We're here to show the world that they're nothing but a bunch of script kiddies," Hex0010, a 23-year-old member of TeaMp0isoN (pronounced "Team Posion") told Fox News. "You think, 'I'm a bad-ass hacker because I can knock someone offline for a few minutes.' That's bull—-. Come on."
Team Poison is connected to groups that have previously attacked Facebook and that are highly critical of the U.S., Israeli and Indian governments. Hex0010 says they plan to expose Lulzsec members one by one, even as authorities have begun their own campaign with the arrest of a 19-year-old British teen who hosted IRC channels for Lulzsec. Lulzsec denies the British teen is part of the group, but Hex claims the suspect is a "middleman" for the group, and that a California hacker will be outed soon.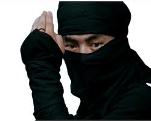 Meanwhile, there seem to be plenty of other hackers with a similar idea. A group calling themselves Team Web Ninjas has dedicated a blog to outing LulzSec members, claiming that a U.S. Marine is among the group's ranks, among others.
A well known hacker that goes by the moniker "The Jester" also posted research into the identity of a Brazilian hacker — "Sabu" — he claims is a leader of Lulzsec. The Jester has also claimed responsibility for taking the Lulzsec website offline this week, something LulzSec scoffed at in a tweet:
"That clown Jester taking credit for other people's work again? Our site has had 24/7 heavy DDoS attempts for weeks."
If all this back and forth is beginning to seem a bit juvenile, perhaps it is. Witness this release from a Team Poison member this week, directed at Lulzsec:
"…we warned you, we told you we do not make empty threats, we gave u 48hrs to secure your ircs yet u failed to do so, instead u posted hashes from public forums and then claimed you doxed us and laughed at the fact that i was 17years old. stop telling yourself that u are hackers…"
And so it continues… Stay tuned.