Rene found some old files on a CD. Windows doesn't have a program associated with their extension. She asked the Utilities forum for advice.
If double-clicking the file doesn't open a program (and don't even try that before you've scanned the file for malware), you'll have to do some research. Look up the extension on either FILExt or File-Extensions.org. Either of these sites should be able to tell you what kind of file it is and what programs can open it.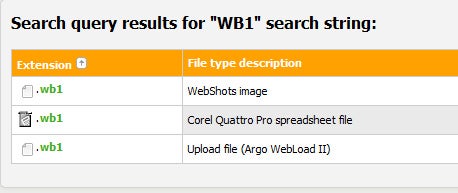 If the first site you try doesn't provide a useful answer, use the other one. And if that doesn't work, go to your favorite search engine and enter open ext file, where ext is the extension you're wondering about. For instance, if you have a .wb1 file, search for open wb1 file. You're bound to find a useful answer.
Well, maybe not. Back in the days of DOS, the operating system didn't associate extensions with particular applications, and users had little motive to save their files with an extension that identified the file type. Remember that file names were limited to eight characters back then; creative use of the extension brought that number up to 11.
If no one on the Internet can identify the extension, ask yourself what you know about the file. Or ask the person who gave it to you. If you're reasonably sure that it's a particular kind of file, like a word processing document or a picture, try dragging and dropping it into an appropriate application. I know from personal experience that I can drag and drop an old WordPerfect file into Microsoft Word and open it, no matter what the extension.
One last resort: Download and install Quick View Plus Standard. This $49 file viewer (with a 30-day trial period) can identify and display over 300 file formats, without needing an informative extension. It will tell you what program the file was probably created in, and display the contents for your perusal and your copying and pasting.
Read the original forum discussion.
Contributing Editor Lincoln Spector wrote Alice in UNIX Land in 1989. Email your tech questions to him at answer@pcworld.com, or post them to a community of helpful folks on the PCW Answer Line forum. Follow Lincoln on Twitter.