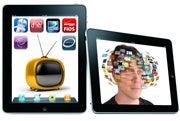 Intel hopes to make it easier for developers to make money by pushing a subscription model to sell applications through its tablet and netbook application store, a company executive said this week.
A subscription model would provide another revenue stream in addition to advertising and direct sales of applications hosted on Intel's AppUp store, said Peter Biddle, general manager of AppUp products and services at Intel.
AppUp, designed similar to Apple's App Store, hosts applications for netbooks and tablets running on Intel or x86 processors. Under the current revenue model, developers get a 70 percent cut on applications sold, and Intel and partners get the remaining 30 percent.
"The notion of bundled subscriptions that developers can opt into as well as individual subscriptions unique to their brand — individual titles or multiple titles — absolutely we're going to be supporting that in the future," Biddle said. "It's very high-priority for us."
Intel's AppUp store currently hosts more than 3,000 applications, which are mostly priced under US$10 or available free. The subscription model would work for bundled applications, Biddle said, providing the example of a bundle of casual games at a price of $5 to $10 a month. The subscription model would also work for rental software under which users get the latest versions, new features or additional capabilities on a consistent basis.
"Users understand the business model of renting versus buying and they've been doing it with movies, books and audio for years. It's not a big leap for them," Biddle said.
Earlier this year, Apple implemented a subscription service for content-based applications such as newspapers, video and music in the App Store. News Corp.'s The Daily multimedia news application was one of the first to use the subscription model.
Other Features Considered
Intel is also looking to add highly desired developer capabilities, such as in-application billing and identity services, which are also high-priority, Biddle said. A billing system will enable payments through credit cards and services such as PayPal after a person's identity is verified. Such services can be embedded in an application.
By adding new features, Intel hopes to make available more software — and thus create demand — for devices based on its Atom chips. Most tablets today run on ARM-based processors, so developers write mobile applications first for the ARM architecture.
Intel will also put AppUp in MeeGo tablets in the future as a core part of the operating system, with units shipping by the end of this year, Biddle said. The company also wants to put AppUp in TV sets, cars and other electronics running MeeGo.
Earlier this year MeeGo took a big hit when Nokia abandoned the OS to establish a future smartphone strategy around Microsoft's Windows Phone OS. Intel and Nokia last year announced they would work together to develop MeeGo for smartphones and tablets.
Despite Nokia's MeeGo defection, there is a growing interest in the OS, Biddle said. Intel is also providing tools and helping developers port applications from Apple's App Store to work with Intel-based netbooks and tablets.
The initial tablets with Intel's first dedicated tablet chip, Oak Trail, started shipping late last month. In the future, Oak Trail tablets will be available with Google's Android 3.0 OS, code-named Honeycomb. Intel has no plans to put the AppUp store on Android to compete directly with the Android Market, Biddle said.
"It's starting to look like a crowded market," Biddle said.