Bharat's laptop is connected to an external monitor. He asked the Laptops forum how to close the lid without putting it into sleep mode.
Windows laptops default to going into sleep mode (standby in XP) when you close the lid. Under most conditions, this makes a lot of sense. You're working in a café, and it's time to go home. So you close your laptop and stick it into your bag. It goes to sleep, saving battery power and giving it a chance to cool down while you travel.
But obviously that doesn't work if you're using an external monitor.
Luckily, you can change that setting. Not only can you keep the laptop on when you close the lid, you can also set it to hibernate, shut off, or "Do nothing."
If your laptop runs Windows XP, right-click the desktop and select Properties. Click the Screen Saver tab, then the Power button in the lower-right corner. Click the Advanced tab. Select an option from the "When I close the lid of my portable computer" pull-down menu.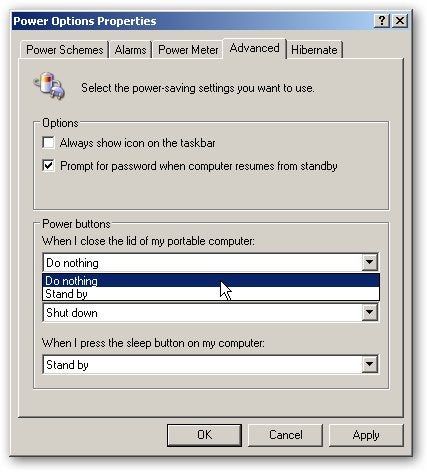 With Windows 7 and Vista, you can use different settings for when the laptop is on battery or on AC power. That makes a lot of sense. If your PC is connected to a monitor, chances are it's not running on the battery.
To get to these options, click Start. Type power, and select Power Options. Click Choose what closing the lid does, and select your options.
Read the original forum discussion.
Contributing Editor Lincoln Spector writes about technology and cinema. Email your tech questions to him at answer@pcworld.com , or post them to a community of helpful folks on the PCW Answer Line forum . Follow Lincoln on Twitter .