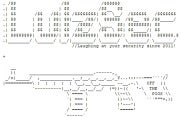 Lulz Security's hacking continues to get political: on Friday the group attacked the Arizona Department of Public Safety in retaliation for immigration laws.
"We are releasing hundreds of private intelligence bulletins, training manuals, personal email correspondence, names, phone numbers, addresses and passwords belonging to Arizona law enforcement," LulzSec said in a statement. "We are targeting AZDPS specifically because we are against SB1070 and the racial profiling anti-immigrant police state that is Arizona."
Senate Bill 1070 is the law that requires aliens to carry registration documents with them at all times.
Arizona officials have confirmed that the documents leaked by LulzSec are authentic. The attack appears to be part of Operation Anti-Security, a push by LulzSec and Anonymous, another hacking group, to attack government agencies and post confidential or embarrassing information. Previous efforts have been limited to denial of service attacks on Websites, including those of the Brazilian and Chinese governments. Unlike those attacks, this hack has resulted in the sharing of confidential information.
This isn't the first time LulzSec has hacked a government agency. The group's previous exploits include an attack on the U.S. Senate, a denial of service attack on the CIA's Website, and a hack on an FBI-affialiated organization, Infragard. Earlier attacks focused on game companies and news organizations.
But this seems to be the first case in which LulzSec has pointed out a specific political policy as the motivation for hacking a government agency. The attack will surely increase the pressure on law enforcement to find and arrest LulzSec members. So far, U.K. police have arrested one teen, who the group says was only loosely-affiliated.
The U.S. government has said that cyber-attacks may be considered acts of war, a declaration that seems to have only encouraged LulzSec to continue its operations. Indeed, the group says it will release more documents on Monday.
Follow Jared on Facebook and Twitter for even more tech news and commentary.