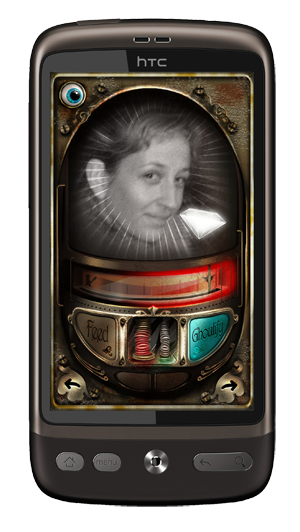 Feel like slaying some vampires today? Or did you fall asleep watching True Blood and dreamt that you grew some fangs? Third Eye, a new free Android game from Viewdle, uses a combination of augmented reality and facial recognition technology to make a whole new kind of mobile game. Whether you're a fan of complex MMPORGs or enjoy casual social gaming, like Farmville or Mafia Wars, Third Eye offers something for everybody. The idea behind Third Eye is really cool, but I wonder if this first game in a three-part trilogy will be enough to hold the sometimes short attention span of gamers.
There's a pretty lengthy story that goes along with Third Eye, but I'll give you a quick synopsis. Basically, everybody is either a Vampire or a Slayer and this "relic"–the Third Eye–can tell you which category you fall into by reading your "faceprint." You might be familiar with Viewdle's other Android app, SocialCamera, which uses facial recognition to automatically tag photos of your friends. The objective of the first part of Third Eye is to build your army and establish alliances. The second and third parts, which will come out later this year, pits your assembled clans against one another in all-out war.
Before finding out what your true identity is, you first have to log into Facebook. Yep, Third Eye requires you to log in with your Facebook profile to play the game. Now this might be enough for you stop reading and never even think about downloading Third Eye if you're worried about privacy or don't want to spam people with updates from your game. You can create a dummy Facebook account, however, as a workaround or you can opt not to have the game updates post on your wall. I ran into a connection issue, however. After I logged into Facebook, it said the game couldn't connect to the network. Judging by the comments on the Android Market page, it looks like other people had this problem too. After I logged in and re-logged in a few times, I got Third Eye to start working.
After you find out your true identity (I'm a vampire), you then must find out your order. You do this by shaking some rune-engraved dice. If you're a history/RPG nerd, you'll love the explanations for each clan. If you get bored by game storylines pretty easily, you'll likely want to skip this part.
Next, you'll want to start recruiting people for your army. Third Eye uses the same facial algorithm on your friends (or random strangers, if you're bold) to identify if they are a vampire or a slayer. You simply hold your phone up toward their face and the app will scan it to determine their fate. If they're a slayer and you're a vampire, you can either "Feed" aka suck their blood or "Ghoulify" and make them join your army. I encountered a weird issue however, with the phone I tested this game with: The HTC EVO 3D's flash turns on when you point the phone at the person. When I tried the game on some coworkers, they got really annoyed (and kind of blinded) by my camera's flash. Try that on a stranger on the bus and they're likely to really "ghoulify" you. Another strange factor is that you can recruit "fake" members of your army by scanning photos of faces. As of right now, Justin Bieber, Danzig and Parker Posey are all on my vampire team. Is that considered cheating?
The graphics are pretty simple, but are meant to have sort of a steampunk look, which should make the next two games pretty interesting, at least visually. For this particular part of the game, the UI is pretty simple. When you hold the phone up to somebody's face, you'll see a meter with an arrow that points at whether they are a vampire or slayer.
It is fun to figure out where your friends fall in the Vampire versus Slayer spectrum, but after a few hours, I grew tired of amassing my army and stopped playing. I hope part two comes out soon or else I fear that other players might completely forget about all the recruiting work they did first game.