Online encyclopedia Wikipedia believes a little love will go a long way toward encouraging volunteer editors to update entries more often.
The reference site will allow users to send virtual kittens, beer, cookies and other gifts or badges to each other as a show of appreciation for their work. The WikiLove button — a little red heart at the top of each user's page — is expected to go live on Wednesday.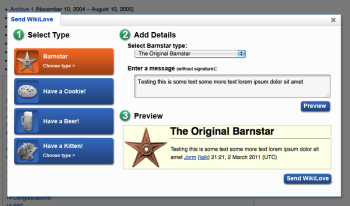 Wikipedia calls the initiative "a simple experiment in appreciation." Stronger than just "liking" something on Facebook, sending WikiLove will post your commendation of an editor's efforts in the form of whimsical images and supportive messages on the user's account discussion page.
Everyone likes to be valued. In fact, a Wikipedia survey showed that editors who were complimented on their edits or articles were most likely to edit more frequently — and Wikipedia needs more volunteer editors. Recent trends have shown an increase in warning and criticism on the service, and a decrease in praise — something that plagues many socially-driven sites.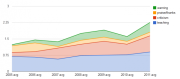 You can try out the WikiLove extension before it launches by heading over to Wikipedia's prototype site and creating a test account page. Be sure to check the "remember me for 30 days" box.