Online retailers are showing signs that a MacBook Air refresh may be imminent. Best Buy recently stopped shipping all four models of the latest Air lineup through its online store. Shoppers looking for Apple's ultraportable laptop from Best Buy will have to pick it up at the big box chain's physical locations instead. There are also reports of constrained MacBook Air inventories in some of Amazon's international stores (although not the U.S. store), according to 9-to-5 Mac.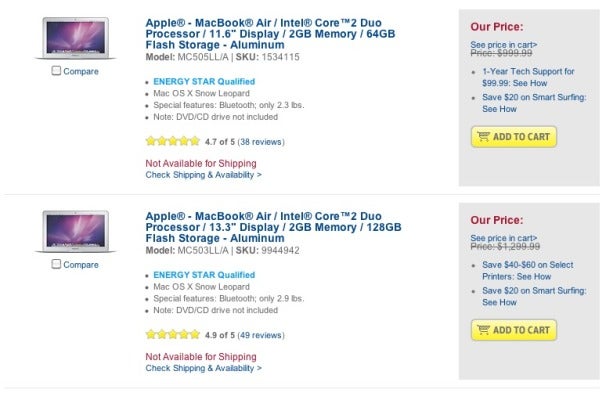 Although hardly conclusive, the fact that Best Buy has stopped shipping Apple's ultraportable laptops through its online store suggests Air supplies may be dwindling. Then again, since Best Buy is one of Apple's largest official third-party retail partners, low inventory could indicate a problem within Apple's supply chain, making it difficult for the company to meet demand.
Missing Sign
One missing indicator for an imminent refresh is the Air's status in Apple's own online store. The company typically increases its usual shipping time right before a hardware refresh from 24 hours to around three to five business days. At the time of this writing, however, Apple is still promising next day shipping for all Air models.

Rumors of an impending Air revamp have been circulating for some time. The next round of Airs will reportedly sport Intel's new Sandy Bridge Core processors replacing the Core 2 Duo chips used in the current lineup. Apple will also reportedly include the new Thunderbolt I/O ports in the next round of Air laptops as it has with its recent MacBook Pro and iMac refreshes.
Apple launched the latest four MacBook Air models featuring 11.6- and 13.3-inch displays in October 2010.
Apple may also be waiting for the July launch of OS X Lion before releasing new MacBook Air hardware. Apple hasn't announced an official launch date for Lion, but the latest iteration of OS X could arrive as early as Friday, July 1.
Connect with Ian Paul (@ianpaul) and Today@PCWorld on Twitter for the latest tech news and analysis.