Firefox fans still aren't sure what to make of Mozilla's new rapid release strategy under which a new version of Firefox will be released every three months.
The
plan is designed to keep the open source browser's development current with new web technologies. Security-conscious users are nervous about rapid release, since they prefer to hold on to older builds of Firefox that are generally seen as more stable and secure. Stability and a slow-moving schedule are also valued by enterprise users, but Mozilla seems willing to abandon any organizations unwilling to move forward with its Firefox plans.
Rapid release may be a response to Chrome, since Google ships a new browser version every six weeks. But Mozilla's decision is also Apple-like in the sense that Mozilla appears willing to upset a small minority of its most dedicated user base if it is in the interests of advancing Firefox's features and technologies.
When word of Firefox's release plans first came out, most critics wrote off the strategy as just another unachievable goal that Mozilla was becoming famous for. Firefox 4, for example, was originally scheduled for release in November 2010. The browser had its first beta release in July 2010, but was still in beta mode seven months later with the twelfth Firefox 4 Beta in February 2011. Firefox 4 was finally released in March.
But all critical doubt about Mozilla's ability to speed up changed when, as promised, Mozilla released Firefox 5 in June. As if that wasn't enough, the group also plans to release versions 6 and 7 before the end of the year.
If you're a Firefox user it's time to prepare for a rapidly evolving browser experience, so here are five things to keep in mind about Mozilla's new plans.
Silent Backups will Ease the Pain
Firefox already has automatic updates when browser refreshes are downloaded in the background. The problem is you still have to go through Firefox's sometimes painful update process, waiting for the browser to reboot and then check your add-ons for compatibility with the new version. With Firefox 6.0, however, Mozilla plans to add Chrome-like silent updates, according to Mozilla's rapid release documentation. Under this strategy, you are never notified when your browser is upgraded to a new version; it simply happens in the background without you ever noticing. That may unsettle some Firefox users, but critics often cite the convenience of silent updates as a reason to switch to Google Chrome.
Add-On Upgrades Should Get Better
Mozilla wants to move all add-ons to its Jetpack program, now available through the downloadable Add-On SDK and Mozilla's web-based Add-On Builder development environment. With the new add-on strategy, Mozilla can automatically rebuild add-ons created with its SDK to keep them current with the latest Firefox release. New add-ons will also be "restartless by default," meaning you don't have to switch off your browser to enable a new add-on. The new add-on strategy relies on HTML, CSS, and JavaScript APIs to implement browser extensions.
The problem with this strategy is that it requires add-on creators to rewrite their add-ons using Mozilla's new SDK. Eventually all add-ons are likely to move to the new program, but at least for the short term annoying Firefox add-on compatibility checks will still be around.
iOS, not Chrome, is the Competition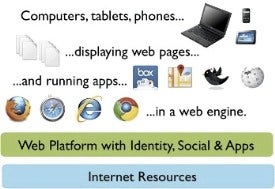 Mozilla isn't just hoping to build a better browser, but to replace the "currently closed 'App' ecosystem and walled social ecosystems…[with]… Open Web Platform based alternatives," according to the Firefox Roadmap. Those goals are similar to Google's Chrome OS vision of making the web the platform for apps instead of the desktop.
Ultimately, Mozilla envisions a future where desktop, mobile, and web apps run on a common platform. Interestingly, Microsoft may share that vision since Windows 8 apps will reportedly be built with web technologies including HTML and JavaScript.
Enterprise was Never a Focus
Enterprise users are up in arms over Mozilla's rapid release schedule since it means a less gradual release schedule that businesses prefer for security and distribution reasons. But Mozilla's response to enterprise users' concerns is unlikely to calm any nerves. Asa Dotzler, Mozilla's product manager for Firefox, recently said in an online Mozilla discussion group that, "Corporate deployments have never been a Firefox focus."
One alternative raised in the online discussion was that Mozilla could create a long-term support or LTS version of Firefox. This is a strategy that Linux distributions such as Ubuntu have adopted where LTS versions update at a slower pace than consumer releases. But Mozilla engineer Boris Zbarsky said the organization didn't have the engineering resources to maintain an LTS branch.
So it's unclear if enterprise Firefox users have any good alternatives right now.
Older Firefox Versions Still Alive, Kind of
For those of you holding on to Firefox 4, 3.6, and 3.5 and unwilling to upgrade just yet, you should see at least some support, according to Mozilla. The open source foundation says emergency updates and some new releases will still be provided for Firefox 4.0.X, 3.6.X, and 3.5.X. Mozilla says it needs "to respect other projects (and the users) that still depend on these older code lines." But Mozilla also notes it has not yet formed a policy on how long the organization plans to support its older browsers and how often older browsers will receive new updates.
Connect with Ian Paul (@ianpaul) and Today@PCWorld on Twitter for the latest tech news and analysis.