U.S. consumers are adopting e-readers such as the Amazon Kindle and Barnes & Noble Nook at a faster rate than tablet computers like the Apple iPad or Samsung Galaxy Tab.
A recent survey by the Pew Internet Project shows that the share of American adults who own an e-reader has doubled in just six months to 12 percent in May 2011 from 6 percent in November 2010.
Tablet ownership also rose during the same period, but at a slower pace than before.
In May 2011, for instance, 8 percent of U.S. adults reported owning a tablet such as an iPad, Galaxy Tab, or Motorola Xoom. (An overwhelming majority were likely iPad owners, given the tepid consumer response thus far to non-iPad tablets.)
That's about the same as the 7 percent of adults who said they owned a tablet in January 2011, and only a 3-percentage-point jump in ownership since November 2010, Pew says.
Prior to November 2010, tablet ownership had been rising at a relatively faster pace.
The 12-percent estimate is a milestone for the e-reader. It's the first time that ownership of the device has reached double digits since Pew began measuring e-reader use among U.S. adults in April 2009.
While e-readers and tablets are gaining popularity, both are well below adoption levels of earlier popular consumer tech devices, including cellphones, laptop and desktop PCs, DVRs, and MP3 players.
(image: Pew ereader tablet vs other devices.jpg)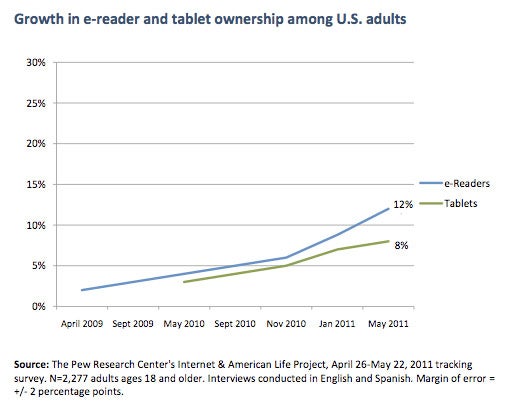 Mobile phones are far and away the most popular tech device: 83 percent of U.S. adults own one. Desktops and laptops are running neck and neck with 57 and 56 percent, respectively.
The Pew Internet Project findings come from a survey conducted from April 26 to May 22 among 2277 adults ages 18 and up.
Contact Jeff Bertolucci via Twitter (@jbertolucci ) or at jbertolucci.blogspot.com .