So much for higher education. A University of Alabama at Birmingham survey reveals that one third of college students use mobile apps while driving. Worse the numbers don't change among those college students who have previously been in accidents where the use of a mobile phone application was a contributing factor in the accident.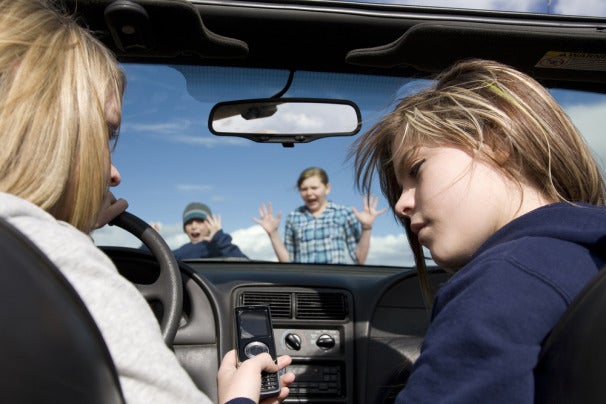 Not So Smarty-Pants
Yep–even students who have been in accidents because they were chatting, texting, or using mobile apps on their cell phones cannot resist the draw of the smartphone app. Of the 93 college students who took the survey, 10 of them had crashes related to distracted driving in the past five years, while three of them had two accidents.
"What really stood out was the number of participants who verbally reported understanding that using mobile Internet while driving was dangerous, but continued to do it," researcher and student at UAB's Department of Psychology Lauren McCartney told Reuters.
The survey was given to UAB students who own a smartphone and use Internet-based applications at least four times a week. Among survey respondents, 10 percent said they "often," "almost always," or "always" use mobile apps, while 35 percent us them "sometimes."
We already know chatting and texting can be hazardous–what about mobile applications? You don't have to have a college degree to know they're worse.
"Something needs to be done because in psychological terms, Internet use involves substantial cognitive and visual distraction that exceeds talking or texting, making it much more dangerous," McCartney said.
Ok, I probably could've told you that. (If you don't believe me, try playing Angry Birds next time you're driving…it's tough.)
Text Time? Use an App Instead
While 33 U.S. states currently ban texting while driving, there's no specific ban on mobile apps. In fact, my friend got pulled over once for "texting" in California: all she had to do was show the cop she was using the Google Maps application on her iPhone, and he let her off without so much as a warning.
That said, a study from the University of Utah shows that about 2.5 percent of the population is made up of "supertaskers," or super multi-taskers who can safely use cell phones and drive without taking a hit to either skill.
McCartney will present her findings at the 119th American Psychological Association convention in Washington, D.C., in August.
Follow Sarah on Twitter (@geeklil) or on Facebook