At a Glance
Expert's Rating
Pros
Convenient buttons/switches
Supports three external screens
Cons
Kind of bulky
Only three USB ports
Our Verdict
Asus's B43J notebook has a lot of neat little touches that help it stand out in a boring crowd.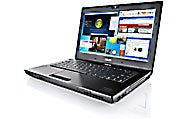 The Asus B43J is an example of this company's push to expand its credibility among business users–on the bottom of this laptop, Asus even adds a clear plastic business card slot. The B43J is attractive, fairly powerful, and supports up to three external monitors. I hear that the more monitors you have, the more productive you are (or something like that), so Asus is clearly trying to show its dedication to productivity in the workplace.
Our review unit, which costs around $700 (as of 6/28/2011), sports a 2.67GHz Intel Core i5-560M processor, 4GB of RAM (upgradable to 8GB), and a partitioned 320GB hard drive. The unit also has an ATI Mobility Radeon HD 5470 graphics card with 512MB of video memory and runs the 64-bit version of Windows 7 Professional. As for connectivity, the Asus B43J has it all: 802.11a/b/g/n Wi-Fi, Bluetooth 2.1+EDR, a gigabit ethernet port, and even a modem hookup (just in case you want to kick it old-school with a dial-up connection). Also included is a built-in webcam with a privacy slide, and a built-in microphone.
In our WorldBench 6 benchmark tests, the Asus B43J scored 114. In both the All-Purpose notebooks category and the Business notebooks category, this is excellent. A score of 95, as achieved by the Sony VAIO VPCEA22FX, which is currently in the middle of our Top 10 list of All-Purpose Laptops, is considered reasonable.
However, graphics quality was barely acceptable. On our Unreal Tournament 3 tests, the B43J managed a frame rate of 35.8 frames per second (with high-quality settings, at a resolution of 1024 by 768). By contrast, the Gateway ID49C13u spat out 71.69 fps under the same settings. Still, the B43J's frame rate is okay for a business machine. Though our top business laptop (the Lenovo ThinkPad W701ds) is a champion with 114 fps at the same settings, other business notebooks are less than impressive. The second-ranking business laptop, the HP EliteBook 8440w, managed 42.55 fps at the same settings, while the third-place Lenovo ThinkPad X100e eked out an unplayable 12.12 fps.
Design and Features
The Asus B43J is housed in a solid, attractive black chassis. The notebook's cover is simple black aluminum that's cool to the touch and, unfortunately, a major fingerprint magnet. Inside, the wristpad and the area surrounding the keyboard are made of the same smooth, fingerprint-attracting black aluminum. The rest of the chassis is made of matte black plastic, including the bezel around the matte screen.
If you're looking for something to tote around with you on business trips, you'll find the Asus B43J a bit bulky (5.6 pounds). The machine measures 13.8 inches long by 9.6 inches wide, and is about an inch and a half thick. The screen is 14.1 inches on the diagonal.
The laptop has a few convenient buttons and switches that will be helpful to business users. On the left of the keyboard is a button for disabling the touchpad–useful if you like to rest your wrists while typing–as well as a screen-switching button for presentations. Above these two buttons is another for switching between power settings, letting you go from an economy mode to a presentation mode with just a few presses. For security, a fingerprint reader is on the lower-right corner of the wristpad.
Another interesting item is an on/off switch right above the built-in webcam: In the "off" position the switch draws a little curtain over the webcam. This is something I haven't seen before, but it's a nice touch considering some of the recent webcam-spying scandals we've been hearing about.
The Asus B43J carries an interesting selection of ports. Although it has only two USB 2.0 ports (and an eSATA/USB combo port), it can support up to three additional displays via the DisplayPort, the VGA port, and the HDMI-out port. While this multiscreen support is nice, a few extra USB ports would probably be more beneficial to the average user.
Other features are an ExpressCard slot, an ethernet port, a modem port, a Kensington lock slot, and headphone and microphone jacks. The front of the computer features a 5-in-1 multicard reader, as well as a physical Wi-Fi on/off switch. The optical drive is a 8X DVD SuperMultiCombo drive.
Like any good business notebook, the Asus B43J has a large, soft-touch, spill-resistant keyboard. "Spill-resistant" just means that if you accidentally spill your coffee on your keyboard, the liquid will mostly drain out through the bottom of the laptop. Of course, you then have coffee all over your desk (or lap), but, hey–at least it's not in your machine. The Asus B43J's matte black keyboard features regular-style keys that are big, flat, and easy to type on. Feedback is good, if a bit too soft for my liking, and the keyboard is generally comfortable.
The Asus B43J has a decently large, smooth trackpad with two soft-touch mouse buttons. The trackpad is big enough to get your work done, though I'd prefer a slightly bigger one. The trackpad is smooth and cool to the touch, and offers excellent sensitivity–so excellent, in fact, that you'll be glad for the button that turns the trackpad off. The mouse buttons below the trackpad are big and easy to press–no complaints there.
The 14.1-inch matte display has a native resolution of 1366 by 768 pixels. Though the display is good when it comes to off-axis viewing (vertical viewing angles are excellent, and horizontal viewing angles aren't too shabby), the contrast is a bit dull. Colors look pretty good, but brighter whites and darker blacks would be nice.
If you're looking to do graphics-intensive work, this is not exactly the computer for you, but streaming video and basic multimedia works just fine. Video playback is smooth, though some obvious artifacting and pixilation appears in darker scenes. The Altec Lansing speakers, which are located on the front of the computer, are your usual laptop speakers: not very good, and not very loud. Audio is tinny and lacks depth, and the speakers can barely fill a small room. The headphone jack, on the other hand, produces decent sound.
Bottom Line
As a business notebook, the Asus B43J has a lot of interesting features that will appeal to myriad users. The little touches–the trackpad on/off button, the webcam slider, the spill-resistant keyboard, and the support for a whopping three external screens–definitely put this notebook higher up on my radar. Combine these features with the laptop's generally attractive design and its decent performance, and it's a pretty good choice for a multitasking business user.
Note: When you purchase something after clicking links in our articles, we may earn a small commission. Read our affiliate link policy for more details.