At a Glance
Expert's Rating
Pros
Switchable graphics
Bright, sexy screen
Cons
Keyboard is tough, keys are small
Speakers are the worst things we've ever heard
Our Verdict
If you're looking for a multimedia powerhouse–where "multimedia" doesn't include using the built-in speakers–you should check out this laptop.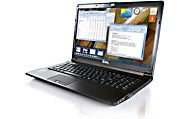 The Micro Express NBL5125 is a basic almost-a-desktop-replacement notebook. This all-purpose laptop is an excellent performer with a nice, bright screen, but its speakers and keyboard leave something to be desired.
Our review configuration ($799 as of June 28, 2011) is packed with a 2.5GHz Intel Core i5-2520M processor, 4GB of installed RAM (upgradable to 8GB), and a 320GB hard drive. The 15.6-inch unit also features an Nvidia GeForce GT 540M discrete graphics card with 1GB of video memory, a built-in webcam and microphone, and a multitouch touchpad, and it runs the 64-bit version of Windows 7 Home Premium. The NBL5125 is decently connected, with 802.11b/g/n Wi-Fi, Bluetooth, and a gigabit ethernet port.
In our WorldBench 6 benchmark tests, the Micro Express NBL5125 earned a score of 123, an excellent result for such an affordable laptop. In comparison, the AVADirect Clevo P151HM, which is number two on our list of top all-purpose notebooks, reached a score of 132, while the number three model, the Gateway ID49C13u, posted a mark of 106.
The NBL5125 also scored pretty well in our graphics tests. In our Unreal Tournament 3 tests, the NBL5125 produced 96 frames per second (high quality settings, at a resolution of 1024 by 768 pixels). By comparison, the Asus N53SV generated 101 fps with the same settings, while the Gateway ID49C13u managed only 72 fps with the same settings.
A sturdy plastic chassis houses the NBL5125. The unit's cover, made of shiny black plastic, sports a tapered edge and a subtle dotted design. Unfortunately, the shiny surface attracts fingerprints like nobody's business.
In other respects the laptop is fairly unassuming, with a brushed black wrist rest and a shiny black bezel surrounding the screen. The NBL5125 is entirely unbranded on the outside, but on the inside a small Micro Express label sits below the 15.6-inch screen. Aside from the power button, which is located on the top right and illuminated with a white light, a few other "convenience" buttons are available, including a webcam on/off switch, a mute button, and a Wi-Fi on/off switch. Over in the top-left corner is a VGA button, which allows you to turn off the discrete graphics card to maximize battery life.
When it comes to ports, the NBL5125 offers a good selection. It has four total USB ports, and two of them are USB 3.0, which is always a nice touch. The NBL5125 also provides VGA and HDMI-out ports, gigabit ethernet, an eSATA port, headphone/microphone jacks, and a multiformat card reader. As for optical drives, you get just a basic DVD-RW drive, which is pretty much what I expected.
The laptop is a bit on the heavy side, considering that it has just a 15.6-inch screen. The entire thing weighs 5.8 pounds by itself; add the power brick, and it's a hefty 6.9 pounds. The NBL5125 measures 14.7 by 9.9 by 1.6 inches, which is bulky but not unmanageable.
The large keyboard takes up much of the interior, due to the included number pad. The keyboard is an "island-style" keyboard, which means that the keys are discrete and widely spaced. I usually like island-style keys, but I found this keyboard difficult to type on: The keys were small and hard to press, and that combination caused my fingers to slip off constantly. The multitouch touchpad is matte black, which makes it easy to distinguish from the brushed wrist-rest surface. Below the touchpad are two discrete mouse buttons, which are easy to press but give little feedback. A fingerprint reader is jammed between the two buttons.
The NBL5125's 15.6-inch, matte-surface LCD has an LED backlight and a native resolution of 1600 by 900 pixels. The screen is big and extremely bright–seriously, you can take this baby outside in direct sunlight, and you'll have no problems doing your work. Colors look good, the contrast is decent, and the off-axis viewing angles are acceptable (the horizontal angle is slightly better than the vertical angle).
If you like music–or sound, or hearing things in general–do yourself a favor and do not even try to listen to the speakers on the NBL5125. This machine honestly has the worst speakers I've ever listened to, even for a laptop. The speakers are located on the bottom front of the system, and their effect is worse than your usual "tinny" or "not full enough"–the audio sounds as if Micro Express took some cheap headphones that airlines give away, shoved 'em into the computer, and then turned the volume all the way up. The sound has no fullness to speak of, and it's strangely distorted. Needless to say, you'll absolutely need to plug some headphones into this laptop if you want to listen to anything at all.
The Micro Express NBL5125 is a decent laptop if you ignore the awful speakers. I love the big, bright screen, but overall the system is a bit bulky for something that isn't a true desktop replacement.