Pogoplug is a company dedicated to letting people set up their own cloud. Instead of storing your music and other files on some company's servers, you can get a Pogoplug – a sort of mini-server that goes into an electrical socket – and connect it to an external hard drive with all the data you want access to over the Web. Now the company is trying to make that experience available with just a free software download. Run the software on your Windows or Mac computer and you can make your files available to other PCs and to mobile devices.

It's an appealing idea, similar to the philosophy behind Orb. But in my experience Pogoplug's execution was so clunky that it's hard to recommend. Pogoplug's Android app crashed regularly and made it difficult to access files. Pogoplug initially refused to stream music files on my iPad, though I was able to fix that by reinstalling the app.
Here's how this Pogoplug system works: After you install the free software and set up your account, you can choose the folders that you want to access remotely. When you login at my.pogoplug.com, you'll see those original folders and can dig into them. But the system also automatically recognizes music, videos and pictures and places those in Jukebox, Cinema and Gallery tabs respectively. That's a much easier way to get to the files you're likely interested in accessing regularly.
While the basic Pogoplug software is free, streaming music outside of your home network or movies anywhere requires a $30 premium account. (Pogoplug is offering free upgrades to the first 200 PCWorld readers; Just go to http://promo.pogoplug.com/promo/PCWorld.)
Pogoplug isn't entirely about streaming media, though. You can also use it to access other types of files remotely. You can set up Pogoplug to automatically sync documents from a specified folder to another folder, ala Dropbox.
You can also designate folders or files you'd like to share with someone. Pogoplug automatically sends them a link to the folder.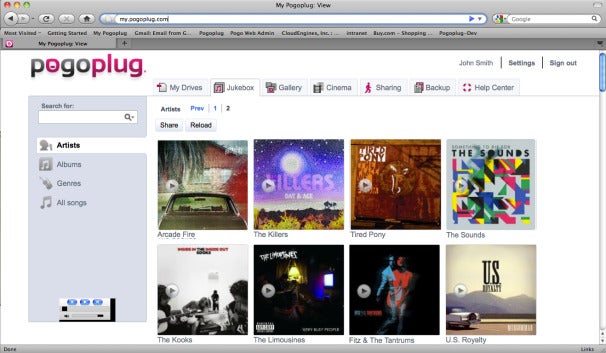 The system works fairly well online, though it could use some polish. There's no way to build a music playlist, for instance. You can choose one song, but that's it – after that Pogoplug automatically plays the next song on the album, unless you return and choose something different.
It's on mobile devices, though, that the cracks in Pogoplug's system really show up. The free Android app, for instance, loads only a few of your files at a time (you can set the amount between 20 and 100). If you want it to add more files, you have to touch "Load More Files". That gets annoying quickly if you have lots of music or pictures. But that's not the worst of it: You have to reload the files every time you open up the application! To my mind, that's a deal-breaker. I also found that the app crashed every time I pressed the "Now Playing" link.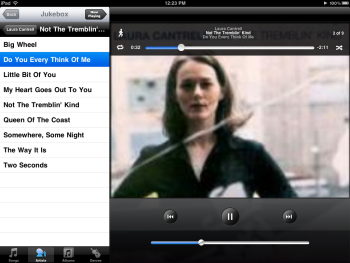 The iOS app (also free) is superior in a number of ways. The interface is more attractive and the app automatically indexes your content and then retains that index from one visit to the next, so you don't have to reload your files as you do in the Android app. When I first installed the app, music files would not play on my iPad. After trying a few preliminary troubleshooting steps, a Pogoplug rep suggested uninstalling and reinstalling the app, which solved the problem.
Services like Pogoplug come to the plate already down two strikes. Strike one is that they require you to have your PC on continuously to stream files. (If the Pogoplug software crashes while you're away from your computer — which happened a couple times to me — you're out of luck.) Strike two, the quality of streaming music or videos depends on the quality of your connection; if you're on a flaky 3G connection, your experience won't be great.
Given those inherent disadvantages, the Pogoplug system needs to work really well to be worth the investment of time and money. In my experience, it just didn't work well enough. If you're looking for a mobile media streaming service, I'd try Orb instead. And Dropbox is a better service for syncing other kinds of files.
Update: This story was corrected to reflect the fact that you can share both folders and individual files through Pogoplug.