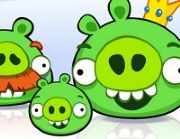 Little green pigs across the nation are cowering in fear now that Angry Birds has finally come to Windows Phone 7.
It's certainly been a long journey, as All Things D points out: the first we heard of the popular mobile game hitting Windows Phone 7 was before Windows Phone 7 even launched, way back in October 2010. A few days before the official launch of WP7, Microsoft released a promotional image that suggested Angry Birds would be included in the launch lineup of apps.
The only problem, of course, was that Rovio hadn't yet committed to making a WP7 version of Angry Birds. Microsoft was just trying to capitalize on the physics game's popularity in an attempt to draw people to the platform. Rovio totally called them out. But Rovio wasn't mad; the company just wanted to set the record straight.
Microsoft and Rovio later made up, and Microsoft hinted at a 2011 release of Angry Birds on WP7. The game was initially set to ship in May, and then pushed back to June 29. And on Tuesday night, users could download the addictive game on their Windows Phone 7 phones from their local Zune store.
Follow Sarah on Twitter (@geeklil) or on Facebook