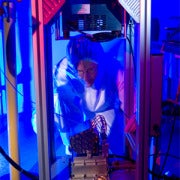 By today, you probably only know Los Alamos, N.M., and its huge national laboratory as the place that created the atomic bomb, and which is also currently under threat from a large, aggressive wildfire. But in recent decades, the scope of the scientific work at the Los Alamos National Laboratory has broadened quite a bit. With flames licking at the border of lab property and concerns focused on the security of the radioactive waste stored there, it seems like a good time to take a step back, and a deep breath, and look at a few of the other things the scientists at the lab have come up with since the days of the Manhattan Project.
A potential vaccine for AIDS
Scientists at Los Alamos are part of a larger, international team working to develop an HIV vaccine. A team of researchers at the lab, led by Bette Korber in the theoretical division, played a major role in developing the genetic work-up for the vaccine, which the consortium of scientists involved hopes will be ready for human trials in late 2012.
Bomb-sniffing bees
In one of the lab's quirkier but still practical projects, researchers used Pavlovian techniques to take advantage of honeybees' strong sense of smell and develop a method to train them to sniff out explosives like those used in improvised explosive devices. No word on whether the military has put the method to the test yet with an all-bee brigade.
Green energy
The Los Alamos lab is officially part of the federal Department of Energy, so it should be no surprise that myriad energy projects have been undertaken there, including quite a few renewable or otherwise "green" efforts. So far, the lab has produced a hybrid garbage truck, technology to make hydrogen fuel cells much cheaper, and solar-collecting material that could one day produce windows that also create energy.
Better testing for cancer
Lab scientists Lianjie Huang, Kenneth M. Hanson and others have worked to develop a method of testing for breast cancer that is safer, more comfortable and accurate. The method uses sound waves to detect small tumors often missed by traditional mammograms.
Space lasers
Any lab as high-tech as Los Alamos would seem incomplete without at least one serious space laser project. Los Alamos scientists helped develop one such system that is now headed to Mars. The laser beam will be fitted on to the Mars rover and will zap pin-head size pieces of dirt and rock, vaporizing them. The flash of light from the vaporized sample will then be analyzed.
Detection of threats from the sky
Lab scientists also helped develop the ASPECT airplane, which can help detect biological threats from the sky, in possible instances of biological or germ warfare. But that's not the plane's only use: ASPECT planes will be flying through the smoke plume above Los Alamos today, as the Environmental Protection Agency uses the technology to test for possible releases of radiation into the air from the wildfire.
When you purchase through links in our articles, we may earn a small commission. This doesn't affect our editorial independence.