At a Glance
Expert's Rating
Pros
Has a very good, matte-finish LCD panel
Excellent keyboard
Cons
No USB 3.0 support
Lacks built-in optical drive
Our Verdict
The ProBook 5330m is a low-cost, attractive business laptop with a great keyboard but few amenities.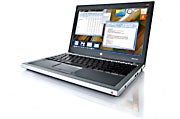 Sometimes you need to buy a boatload of laptops for your staff when they need mobile PCs. HP is hoping its low-cost ProBook 5330m business laptop lineup will fit the bill. Here we look at the $799 version, which strips out some features to hit that low price.
What do you give up? The ProBook 5330m lacks SuperSpeed USB (USB 3.0) support. And although HP's marketing literature mentions Bluetooth support, our test unit lacked that capability. The ProBook also includes only three USB ports. One port on the left side is a combo USB 2.0/eSATA port; the other two USB 2.0 ports are built into the right side. The left side also houses video output connectors, including one VGA and one HDMI. Rounding out the left side is an SD Card slot.
On the right side, a lone minijack is the sole audio connector. If you need microphone input, you can attach an analog microphone here. Or you can use it for headphones. You just can't have both at the same time. The ProBook does have an array microphone built into the top of the display for use with the webcam. The other two USB ports live on the right side, as does the ethernet jack and power supply connector.
This particular HP laptop also lacks a built-in optical drive, which makes the weight of 4 pounds, 2 ounces (sans power brick) a bit inexplicable. We've seen units with optical drives that weigh less (but those laptops also cost more). With the power brick, the whole affair comes in at just under 5 pounds.
So the ProBook lacks a few amenities, but also offers some key strengths. The keyboard has an excellent feel, and the layout is a reasonable compromise for a 13-inch unit. The typing keys are nearly full size, and touch typing is a pleasure. The trackpad pointing device isn't overly sensitive, and it doesn't lock onto a hovering palm, something all too common in other laptops.
The display resolution is the commonplace 1366 by 768 pixels, and is driven by Intel's Integrated HD Graphics. The GPU in the Intel Core i3 2310M dual-core processor offers only six shader units and is ill-suited for gaming. However, it does fully implement Intel's Quick Sync Video, so high-def video looks fine, and transcoding performance (if you're attaching mobile devices) should be pretty satisfactory, when using supported software. The LCD offers a matte finish that minimizes glare. Video playback quality was good in our WMV-HD and AVI standard-definition test files.
That Intel Core i3-2310M CPU won't win any awards for performance, but it gets the job done. Even with many browser windows and tabs open, I didn't feel any response time lag. The PC WorldBench 6 score of 101 is about right for this class of CPU running Windows 7. Battery life came in at nearly 4 hours–not bad for a four-cell battery.
Audio quality was a pleasant surprise, probably due to the included Beats Audio software processing. You wouldn't describe audio playback as neutral, but it's pleasing enough and quite good for a low-priced business unit, albeit not particularly loud.
HP supplies its usual suite of system management and security tools, which can ease the job of IT managers, provided the right server-based tools are in use. The unit also includes Norton Internet Security and Microsoft Office trialware.
Overall, the HP ProBook 5330m offers few frills, but what it does include is well executed. So if you do need a no-frills unit, this compact, near-$800 unit from HP will bear closer scrutiny.