Facebook is getting set to "launch something awesome" next week, company CEO Mark Zuckerberg said on Wednesday from Facebook's Seattle office.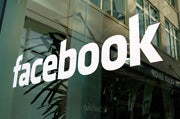 It's unclear what the company has planned or if the feature will somehow respond to Google+, the new social network the search giant recently launched in limited field test. Facebook's Seattle office developed the new feature, and the office plays a key role in the company's mobile products, according to Reuters.
While it's not entirely certain what Facebook will launch, most critics expect it to be related to mobile devices given the Seattle office's focus. There have also been numerous rumors in recent weeks about Facebook's plans for new mobile products, particularly the iPad.

Facebook is reportedly working on an HTML 5-based Web app for the iPad, according to TechCrunch. The rumored Web app is designed to be a Web-based mobile platform that could "break the stranglehold [Apple has] on mobile app distribution," TechCrunch says. Anonymous sources speaking with The New York Times later contradicted the TechCrunch report. The sources say Facebook's new web app was only meant as a supplement to a forthcoming downloadable app for the iPad.
Also heard are suggestions about a new photo-sharing service for iPhone that would mimic the sharing features of apps such as Color and Instagram. It's not clear if the rumored new photo-sharing feature would be built into Facebook's current iPhone app or function as a stand-alone app.
Facebook isn't the only company hard at work on new social networking products. Google on Tuesday launched Google+ a new social network that lets you share web content such as links, photos, and videos with your friends similar to the way Facebook does. Google+ also has built-in video chat for up to ten people (a feature Facebook doesn't have), and a multiuser chat feature called Huddle for its Android mobile app.
Google's latest social effort is getting positive reviews so far, but it has a long way to go if it hopes to compete with Facebook's user base of more than 500 million.
Connect with Ian Paul (@ianpaul) and Today@PCWorld on Twitter for the latest tech news and analysis.