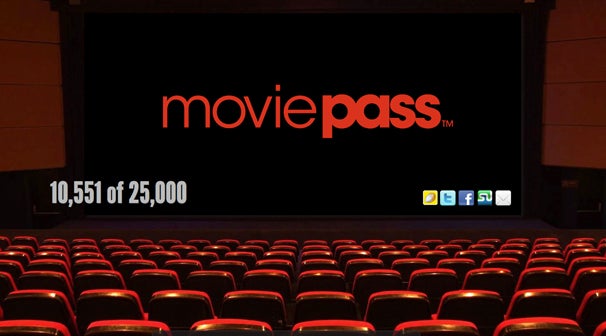 Aren't unlimited subscriptions great? I can get all the movies I want from Netflix, and all my games from GameFly. Now MoviePass is trying to bring the same subscription model to movie theaters with unlimited movie viewings for $50 per month.
MoviePass works using an HTML 5 Web app (native smartphone apps coming soon) that lets movie buffs search a showing film, find a nearby theater, and pull up tickets for a showtime. If you want to see a 3D or IMAX film, you'll be billed a $3 surcharge. A "Limited Pass" that lets you go see 4 films for $30 per month is in the works as well.
Right now, only a lucky few are in the private beta, which started last Monday. There are only 21 theaters in the San Francisco Bay Area participating in Movie Pass. By this fall, they hope to capture 40 percent of the Nation's movie theaters and to launch their service nationally.
Are there enough movies to watch per month to make this a bargain? Leave a comment.
Update: Not so fast! Wired reports that MoviePass will not be rolling out its beta just yet–apparently some theaters–including AMC–are not yet on board with the program.
Like this? You might also enjoy…
Get your GeekTech on: Twitter – Facebook – RSS | Tip us off