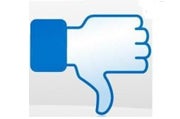 Are you starting to tire of Facebook? It's nothing to be ashamed of. We've all been there, even me. Facebook users have grumbled about irritations with the site for years now, but there are some indications that they may finally have reached a breaking point.
A recent survey by the American Customer Satisfaction Index found that Facebook was the 10th most hated company in America. Customers are less satisfied with Facebook than they are with utility companies or even huge financial institutions like Bank of America.
And now, the social media giant has competition in the form of Google+, a new social network launched by Google earlier this week. While the service is still in beta, pundits have already suggested that its clever new "circles" angle on social networks is a potential Facebook killer.
Although Google+ has plenty of great features the one that really matters, as a recent XKCD comic illustrates, may be that it isn't Facebook.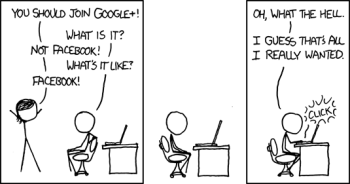 I don't think there's any real mystery to why users want an alternative. Facebook has given users plenty of reasons to be upset over the years. The company has been notorious for sudden updates that raise major concerns about user privacy.
Facebook's general strategy with these updates has often been that it's easier to ask forgiveness than permission. I'd give Facebook the benefit of the doubt for these privacy snaffus if they didn't happen so frequently. Just recently Facebook launched its vaguely creepy new facial recognition feature with little or no warning.
That's all to say nothing of all the minor annoyances of Facebook. Over the years what started out as the crisp, clean competitor to MySpace has become clogged with spam friend requests and invites, creepier and creepier targeted advertisements and useless or even intentionally malicious Facebook apps.

My Dilemma
The last problem was a deciding factor for me. I'm embarrassed to admit that a few weeks ago I myself fell for a Facebook hack that resulted in an offensive screed that was reposted to the wall of every single one of my friends. I'll say here that it was late and I was tired to try and excuse myself, but in the end I foolishly clicked the wrong button and was rightly mocked by my friends for it. Facebook sorted the hack out quickly enough and the next morning I decided that the brief embarrassment was simply the price I paid for…what exactly?
It suddenly dawned on me that I had no real idea what I even used Facebook for anymore. Most of the functions I'd valued in Facebook had been taken over by other services and what was once a useful form of communication was now just a minefield of bad apps and boring spam invites.
I only managed to quit for a week. In the end I caved and came back if only to keep in contact with all the friends we have on our PCWorld Facebook page. Instead, I consulted with PCWorld Senior Editor Tim Moynihan who managed to quit Facebook cold turkey over a year ago about why, and how, he left.
Tim mentioned the privacy concerns and ambush updates but he said the real turning point was when he realized that Facebook didn't improve his life anymore. "Facebook has become a substitute for a social life rather than an augmentation," he said.
In other words, Facebook is now as much a social obligation as it is a social network. We have to check Facebook not because we get any inherent value out of it but because if we don't we'll disappoint our friends.
That kind of commitment has a natural half-life however. As more and more users get frustrated, a day may come when Facebook, like MySpace before it, collapses.
Tell us on Twitter or give us a quick +1 on Google if you're ready to jump ship from Facebook. If not, tell us on our Facebook page for added irony.