At a Glance
Expert's Rating
Pros
Speedy, modern hardware and features
Sleek, sturdy design
Cons
GPU is a bit limited at the high price range
"Splendid Color" oversaturates the display
Our Verdict
If every Dell laptop were this good in both build and design, the company's reputation among consumers would be completely restored.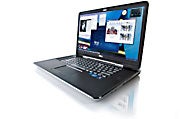 The obvious comparison for Dell's new XPS 15z (the first in a line of z-series XPS systems) isn't another Windows-based PC, it's a 15-inch MacBook Pro. In fact, the overall look and feel of the system are close enough to those of Apple's iconic laptop that you might confuse the two at a glance. The new XPS 15z doesn't quite match the MacBook Pro's level of polish and sophistication, but it costs substantially less.
Starting at $999, the XPS 15z incorporates a Core i5-2410M dual-core processor, 6GB of RAM, a GeForce 525M graphics processor with 1GB of graphics RAM, a 500GB 7200-rpm hard drive, and an 8X DVD/CD burner. It supports Nvidia's Optimus technology, which enables the laptop to switch automatically between integrated and discrete graphics as needed to perform well and promote battery life. The left side of the system houses HDMI and mini-DisplayPort outputs, a USB/eSATA combo port, two USB 3.0 ports, and a multicard reader. The USB/eSATA port incorporates Dell's Powershare feature, which allows it to charge mobile devices even when the system is shut down. The right side houses the slot-loading DVD burner along with headphone and microphone jacks. The gigabit ethernet port and power plug are on the rear edge.
Unlike most other Dell laptops, the XPS 15z isn't highly configurable. You can't upgrade the slot-loading burner to a Blu-ray drive: Dell says that the system is too thin to have room for a slot-loading Blu-ray drive. The base model comes with a screen resolution of 1366 by 768, but for $100 more you can upgrade to a full 1920 by 1080. Aside from the full-HD display, Dell offers set configurations with 8GB of RAM instead of 6GB, a dual-core Core i7-2620M CPU, and double the graphics RAM, but most of those enhancements won't make a noticeable difference. Though our review unit was the full $1500 package with all of the higher-end options, the sweet spot is the base configuration plus full-HD screen for $1100.
Returning to the comparison with a MacBook Pro, we note that the least-expensive 15-inch model from Apple costs $1800. It includes a quad-core Core i7 CPU and a slightly superior Radeon HD 6490M GPU, but it has just 4GB of RAM, a 5400-rpm hard drive, a 1440-by-900-resolution display, and no USB 3.0 ports.
While the XPS 15z and 15-inch MacBook Pro have almost exactly the same thickness (just under 1 inch) and weight (about 5.6 pounds), they are not quite the same size. The XPS 15z is just over 15 inches wide and 10 inches deep, while Apple's 15-incher is about 14 inches wide and 9.5 inches deep. It looks as though Dell could have reduced the XPS 15z's dimensions a bit, considering the space in the bezel surrounding the display and the room left for vents and speaker grills on the sides of the keyboard. Cosmetic differences don't end there, either. The MacBook Pro is famously sculpted from a single piece of aluminum, while Dell blends aluminum and magnesium pieces.
That's not to say that it has the typical design of a Dell, which is more about price than craftsmanship. The XPS 15z looks great, with clean lines, graceful curves, and a minimum of seams and excess buttons. In fact, the only thing on the keyboard deck besides the keyboard and the trackpad is the power button. The keyboard's island-Chiclet style keys have extremely rounded edges and an unusually soft action. Though I sometimes missed the backspace key, I had no trouble typing quickly and accurately. The sizable touchpad is recessed just enough to minimize accidental palm activation. Its two physical buttons are large and easy to command, and the touch surface tracks smoothly and accurately, with support for multitouch gestures.
The full 1080p version of the display incorporates a technology that Dell calls "Splendid Color." An "enhanced color performance" option in the Windows 7 Mobility Center lets you toggle between Generic Color and Splendid Color. Nearly all laptops today use twisted-nematic-style displays that can show only 6 bits of color per channel, so they attempt to match the 8-bit-per-channel color from your graphics card with a combination of dithering techniques. As such, they have trouble encompassing the entire sRGB color space. Splendid Color can't get around these basic engineering issues, but it attempts to match colors more closely with the part of the sRGB color space that the panel can display. So, it doesn't extend the 6-bit color gamut, but it does more accurately represent colors within that color gamut. Splendid Color also incorporates color enhancement, sharpness enhancement, and contrast enhancement.
Does it work? Well, some of the colors may be more accurate, but overall the saturation and contrast are blown out of whack. The effect is reminiscent of how HDTVs have their contrast and color saturation pumped up to look good in stores but somewhat unnatural at home. Photos pop maybe more than intended, and subtle detail in very dark areas is lost in the name of contrast enhancement. I spent hours jumping back and forth between Generic and Splendid Color settings, and I definitely prefer the Generic Color mode.
The XPS 15z's performance is about what you'd expect from a laptop with a midlevel dual-core Core i5 or Core i7 processor. Our review unit scored an impressive 134 on WorldBench 6, and its gaming performance was okay; you can play real modern games, but you'll have to run the more strenuous titles at reduced resolution and settings to maintain a smooth frame rate. Our test unit lasted just over 5 hours on one charge in our battery tests–less than Dell claims, but reasonable for a powerful system with a 15.6-inch screen. We would have expected a better graphics card in a $1500 laptop, however, in place of the pointless doubling of graphics RAM. The entry-level model's price/performance ratio is far more appealing. Audio quality from the built-in speakers was among the best we've seen in this class of laptop.
Dell throws in some basic software with the XPS 15z, including McAfee antivirus software and Dell's Webcam Central software, which makes tweaking webcam settings easy. The most important part of the software bundle may be Stage, a floating desktop toolbar that lets you quick-launch games, music, photos, websites, and access to Dell support software. I'm not entirely sold on it, in part because I just don't think that the world needs another proprietary toolbar. Some of the apps, such as those for listening to music or viewing photos, are Dell's own. They're okay, but it's not as if we need more music, photo, or video software. Stage is easy to disable or uninstall, however.
Let's hope that the XPS 15z proves to be a turning point for Dell, signaling a new direction for Dell consumer product design and engineering in general, rather than a niche "high style" brand that will represent only a small fraction of the company's consumer sales. Perhaps in two or three years, the Dell lineup will consist entirely of sleek, stylish, well-built models with great features and reasonable prices. And we'll say, "You know, it all started with that XPS 15z." Regardless of how things turn out, this is one of the best laptops Dell has made in a long time. It has its quirks, and it's not a great value in its higher-priced configurations, but it hits all the right notes. It's good enough to make me look forward to the future models of the XPS z-series, and to hope that the sensibilities that produced this laptop find expression throughout Dell's product lines.