If you're rich and consider your phone an important part of showing off that wealth, the latest luxury phone from high-end Swiss watchmaker Tag Heuer may be for you.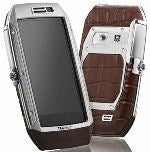 Called The Link, it's Tag Heuer's entry into the smartphone area, according to watch blog A Blog To Read. Running Android (and the now outdated 2.2), its feature set seems a little ho-hum for its 4700-euro starting price (that's US$6820).
A 3.5″ TFT screen graces the front of the Link, with your standard Android navigation buttons across the bottom. A five-megapixel camera is included, along with Stereo Bluetooth and Wi-Fi capabilities. Internal memory is limited to a paltry 256MB — quite low for a smartphone — but expandable to 8GB via memory cards. Talk time comes in at about six hrs, with around two weeks of standby time.
The case can be made of a variety of materials depending on the buyers preferences, much like Tag Heuer's watches: it can be constructed of steel, 18K rose gold, or titanium, with a few diamonds thrown in for good measure. If you're more of an animal skin guy, they've got you covered too: trims can be had in Calfskin leather,
The Link is actually the second device to be released by the company: first was the $5000 Meridiist feature phone, in 2008. Neither the Meridiist nor the Link seem to be anything special in the feature department, never mind the unbelievably high price.
I do have to give them credit, though. Tag Heuer at least had the decency to produce the screen out of Corning's Gorilla Glass, the same tough glass used on the iPhone 4 and many other higher end smartphones.
I guess you can at least have some peace of mind that, if you drop the thing, there's less of a chance of your screen busting up and really making you feel guilty you just dropped a few thousand on what's essentially a bedazzled run-of-the-mill Android phone.
The phone will come in both CDMA and GSM flavors, so no matter what carrier you're on, if you got the funds you're in luck. Tag Heuer hasn't announced availability; I'd venture to guess this would probably only be a special order phone and if available at retail, it would only be in the classiest of Tag Heuer's dealers (read: places 99 percent of us would never step foot in), whenever the phone is publicly released, likely later this year.
As you can see I'm obviously a little confused as to why anybody would want to spend this kind of money on something as disposable as a mobile phone. But I guess when you're making the kind of money that people would be in order to afford this type of luxury, what's a few thousand going to do?
And it turns out it's among the more economical of pricey cell phones; British designer Stuart Hughes unveiled last year an $8 million version of the Apple iPhone, bedecked with diamonds. Also, some custom BlackBerrys have been offered with some serious and expensive bling.
See also "Overpriced Gadgets Only a Crowned Head Can Afford.").
For more tech news and commentary, follow Ed on Twitter at @edoswald and on Facebook as well as Today @ PCWorld.