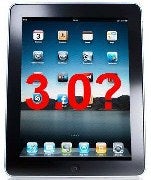 Yes, the iPad 3 is coming. But when? Persistent rumors say as early as this fall, perhaps in conjunction with the launch of Apple's next-generation iPhone.
Whatever its launch date, the iPad 3 is expected to be a humdinger of a tablet with a killer display that puts the iPad 2 to shame. A recent report from Taiwan's Economic Daily claims the next-gen iPad's resolution will be five to six times higher than that of the iPad 2.
If that seems unlikely, a January 2011 report from Digitimes says the iPad 3 will have a screen resolution of 2048 by 1536 pixels — four times that of the iPad 2's 1024 by 768. Research firm IDC at the time was hearing similar reports from its sources as well.
October Surprise?
A fall 2011 debut for the iPad 3 seems premature, however, for several reasons.
First, the iPad 2 is selling like crazy. Apple may ship between 12 to 14 million tablets this quarter (3Q) — up from 7 to 9 million units in 2Q. It's also stockpiling iPad 2 components to reduce the risk of component shortages, Digitimes reports. Rather than winding down iPad 2 production, Apple appears to be ramping it up.
Second, Apple owns the tablet market. The competition may be improving, but it's unclear how alternative tablets such as the Samsung Galaxy Tab 10.1 and Hewlett-Packard TouchPad will do in the consumer market. And with the Apple App Store featuring more than 100,000 apps optimized for the iPad, it's hard to imagine tablet shoppers would opt for slate running, say, Android, WebOS, or another non-Apple OS.
Third, it's very un-Apple. Cupertino, as you know, doesn't rush products to market. It's taking its time with its iPhone 4 successor, even though Android phones with larger displays and arguably better cameras keep arriving on a regular basis.
Not So Fast
The iPad 2 starting selling in March. Why would Apple want to hurt sales of its hugely successful second-gen tablet by launching the iPad 3 just seven months later?
True, an iPad 3 with a vastly improved display would send a statement to the competition: Apple still rules the tablet space, suckas. But the taunt could easily wait until next year. A more likely scenario is that Apple will market the iPad 2 like crazy during the upcoming holiday shopping season, and then introduce the much-improved iPad 3 in early 2012.
In fact, some industry watchers have been saying as much for a few weeks now.
Contact Jeff Bertolucci via Twitter (@jbertolucci) or at jbertolucci.blogspot.com and follow Today @ PCWorld on Twitter.