30 Days With the iPad: Day 3
I have always had email set up on my iPhone and iPad so I can send and receive messages while on the go. As I embark on the 30 Days With the iPad project, though, I am taking a closer look at how it is set up, and learning some new things about the iOS Mail app.
First, let's look at setting up the email in the first place. Click on the Settings app on the iPad, and tap the Mail, Contacts, and Calendars setting in the left pane. Toward the top of the right pane under Accounts, tap Add Account.
POP or IMAP
You can add a variety of email account types to the iPad: Microsoft Exchange, MobileMe, Gmail, Yahoo!, Aol, or the generic Other. I prefer using Exchange, for reasons I will cover in a minute, but generally I have used Other. Other is what you use to set up any generic POP or IMAP account. The question is which: POP or IMAP?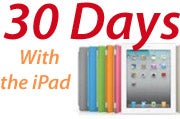 There are pros and cons to each. With POP, the messages are downloaded from the remote server to the iPad. That means that the email messages are stored locally, and you will be able to read them even if your iPad doesn't have a working connection to the Internet at the moment, but it also means that the messages are no longer on the server, so they can't be retrieved or read from other PCs or devices, and if you lose the iPad the emails go with it.
Thankfully, you can configure when or if messages are deleted from the remote server within the Advanced settings for a POP email account. The options are 'When removed from Inbox', 'Seven Days', and 'Never'–and iOS defaults to 'Never'. The downside to this set up is that every PC or device essentially has its own copy of the messages. If you delete the message on your iPad, it is still there on your PC so you are forced to maintain multiple Inboxes.
Another problem for POP accounts on an iPad is that they are limited to a maximum of 200 messages. If you are at a client site and you need critical information that you know is in your email…from last week, odds are good it won't be available any longer on the iPad.
IMAP takes a different approach. With IMAP, the device locally archives messages, but the server is the real message repository. All of your various devices are kept in sync because they are all connecting to the same data on the server. When you delete a message on your iPad, that deletion is reflected on your PC and any other devices set up for that email account.
With IMAP, because the messages are stored on the server rather than on the iPad, there is no 200 message limitation. More importantly, you can load older messages, so you would be able to get that crucial client data from the email last week as long as the message is still in your Inbox folder.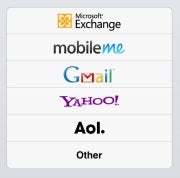 A potential downside of IMAP is that you might have the message headers, but not the complete messages, so if you try to open and read your email while the iPad isn't connected to the Internet it may not work. In my experience, though, I was able to open and read the content of my messages just fine without a Wi-Fi connection. The only issue I had was that linked content–like images and such within an email were unable to load.
Your mileage may vary, but for my purposes IMAP offers more benefits and makes managing and maintaining my email accounts simpler.
Exchange or Gmail
Some of the account types offer even more advantages. For example, Exchange and Gmail accounts offer a good alternative to IMAP with some additional benefits. If you have a Gmail account, or a Microsoft Exchange account–like an Office 365 account–you can sync in real-time with your email and calendar (and contacts for Exchange).
Using Gmail or Exchange, you can access your entire mail account–including sent messages, and all of your folders and subfolders. So, even if you moved the email from last week with the crucial client data to a different folder called 'Crucial Client Data', you would still be able to access and retrieve it from the iPad as long as you have an Internet connection.
Another advantage of using Exchange or Gmail is that your messages are already scanned for malware, spam, and phishing scams, and those messages are filtered out so you don't have to sift through them in your Inbox.
iPad Mail Pet Peaves
Apple has made some significant improvements to the Mail app over time. I appreciate that I can have multiple email accounts and view them all simultaneously with All Inboxes, and I like the threaded conversations that make following a stream of messages more efficient.
However, I am not a fan of the spam. When I set up my email accounts using POP or IMAP, I get all of the email messages in my Inbox–including spam messages about low interest loans, and guaranteed penis enlargment. If I go look at those same email accounts in Microsoft Outlook, those messages don't make it to my Inbox because the Outlook Junk Mail filter catches them and filters them to a separate box.
I also don't appreciate the lack of groups or distribution lists. I have a variety of distribution lists set up in Outlook that I use frequently, but with the iPad Mail client I have to manually add each individual email address every time I want to send an email. It would also be nice to be able to do simple things like make text bold or italic, or insert links into the message, or add file attachments.
The Mail app is decent, and it is way better than it was in previous version of iOS, but it still has a long way to go to rival what I am accustomed to with Outlook 2010.
Changes in iOS 5
iOS 5 will be here in a few months, and when it is released there will be some pretty significant changes to the Mail app. Here is what the Apple iOS 5 site has to say about the updates coming to Mail: "Your inbox is about to receive some great new features. Format text using bold, italic, or underlined fonts. Create indents in the text of your message. Drag to rearrange names in address fields. Flag important messages. Even add and delete mailbox folders on the fly. If you're looking for a specific email, you can now search in the body of messages. And with iCloud, you get a free email account that stays up to date on all your devices."
For my purposes, I am setting up my personal and business email accounts as POP accounts within my Gmail, and then using Gmail for sending and receiving messages on my iPad and iPhone. It gives me more flexibility and is easier to manage, while also providing spam filtering and phishing protection.
Read the last "30 Days" series: 30 Days With Ubuntu Linux
Day 2: Choosing the Right iPad