This story originally posted at 6:03 Pacific Time; it was updated at 10:45 a.m.
An official Fox News Twitter account falsely reported that President Barack Obama had been assassinated after hackers gained access to the account early Monday. The phony messages were posted to the Fox News Politics Twitter account sometime before 2:30 a.m. Eastern Time Monday and were still live more than five hours later.
The account has more than 33,000 followers. A group calling itself the Script Kiddies claimed responsibility for the hack, according to The Next Web.
By mid-morning Eastern Time, Fox had regained control of its Fox News Politics Twitter account, a spokesperson told PCWorld. The company removed the offending tweets and says it is working with the microblogging service to deal with the hack as quickly as possible.
"We will be requesting a detailed investigation from Twitter about how this occurred, and measures to prevent future unauthorized access into FoxNews.com accounts," says Jeff Misenti, vice president and general manager of Fox News Digital.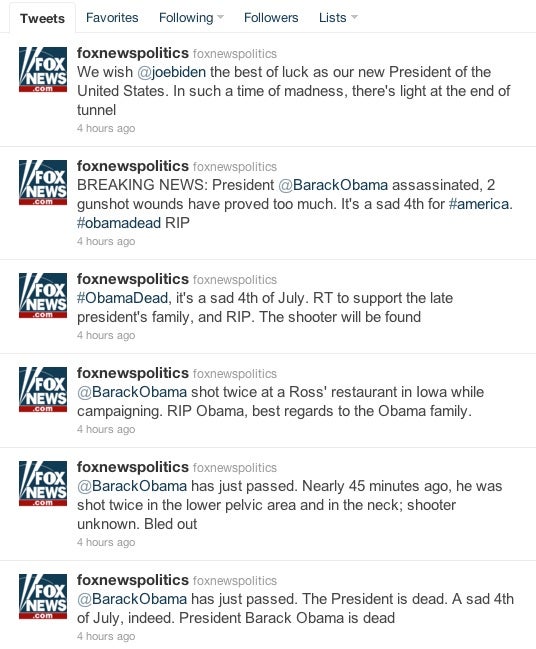 Mocking Messages
Before the group posted the false messages about the president, the Script Kiddies simply took over the Fox News Politics account and announced it had been hacked, according to The Huffington Post. The group replaced the Fox News icon with its own insignia and started posting messages of support to the hacker collective Anonymous. Shortly thereafter, however, the group erased its original work and started posting the fake news story.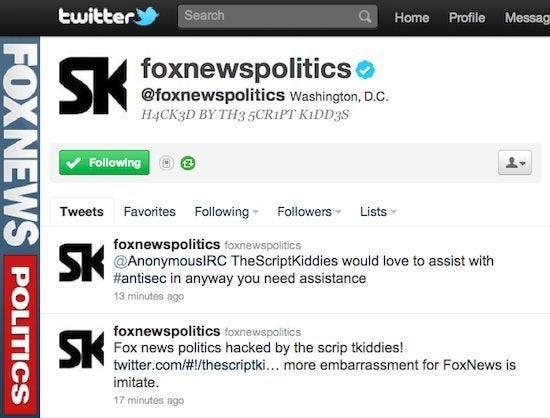 Photo Credit: The Huffington Post
The ScriptKiddies appear to be a new hacker group and are somewhat reminiscent of LulzSec; the recently disbanded group that broke into PBS and put up a false story claiming murdered rapper Tupac Shakur was still alive. The Script Kiddies boasted of its exploits on Twitter, according to TNW, but Twitter quickly pulled down two different Twitter accounts related to the group.
Script Kiddies is usually seen as a derogatory term in online culture referring to people who cannot program on their own, but know enough to use another hacker's code in an online attack.
Script Kiddies Speak
Representatives of the new group purportedly spoke to Think, a student-run newspaper at New York's Stony Brook University, after its Fox News Politics hack. The group said that two of its members were once affiliated with Anonymous. The Script Kiddies also told Think it hopes to participate in the new AntiSec campaign to leak documents stolen from government and corporate servers. The group also promises more attacks against Fox News in the weeks to come. "I've looked into their security and site defacement does not seem to be an option. Everything else," a Script Kiddies representative told Think, "is fair game."
It's unclear if Fox News has control of its hacked Twitter account. The Fox News Politics homepage shows no mention of the hack, but the site did post a message alerting its reader to the false reports.
Despite the false reports coming out of the Fox News Politics Twitter account, online readers appear to be savvy enough to understand the messages are fakes and used the incident to lampoon Fox.
In response to one of the false messages that read, "The President is dead. A sad 4th of July, indeed." Twitter user heydarguise said," Obviously thats fake tweet. Fox news would not be sad at passing of obama. IT would be party tyme."
Connect with Ian Paul (@ianpaul) and Today@PCWorld on Twitter for the latest tech news and analysis.