At a Glance
Expert's Rating
Pros
Roomy, 15.6-inch display
Great multimedia and pretty good gaming
Cons
Mediocre computing performance and battery life
Heavy and chunky, with an oversize brick
Our Verdict
The entry-level Dell XPS 15 (L502X) will delight multimedia buffs, but it's too big and heavy for frequent travelers.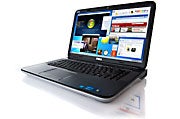 For multimedia buffs, the XPS 15 (model L502X) is a generally solid addition to Dell's line of consumer laptops with a little added oomph in performance. Even the basic, most inexpensive model–our review unit costs $799–has discrete Nvidia GeForce 525M graphics with 1GB of memory, a 15.6-inch widescreen LED-backlit display, and JBL-designed speakers, all of which make watching videos and listening to music quite delightful; it also produced better-than-average scores on our gaming tests, compared with other laptops at this cost level.
Still, for this price, you won't get really impressive general computing performance. The basic configuration we tested–which includes an Intel Core i5-2410M CPU (a current, lower-end Intel notebook processor) running at 2.3GHz, 4GB of DDR3 memory, the aforementioned Nvidia graphics card (with Optimus support), and the 64-bit edition of Windows 7 Home Premium–scored a mediocre 116 on WorldBench 6. The battery life was an equally unimpressive 4 hours and 10 minutes in our video rundown test. In other words, hard-core number crunchers and people who don't always work near an electrical outlet should consider other options, but these test results also shouldn't overly concern general business users.
Although Dell also promotes the XPS line for its design, this notebook looks more serviceable than chic. It's bulky, weighing in at 6.2 pounds, with one of the largest AC adapter bricks I've ever seen. Along with the so-so battery life, this makes the XPS 15 L502X a poor candidate for frequent flyers. Its silvery aluminum chassis, including a slab-like lid with black accents, looks fairly generic, and its underside gets quite warm after extended use. The keyboard, while roomy and responsive, has no backlighting, and the touchpad seemed a bit slow to respond. The 1366 by 768 display, which is fine for video, could be a bit sharper and crisper when showing a screenful of text; Dell offers a couple of 1920 by 1080 display alternatives. You can get this same hardware in a sleeker, lighter, and more durable shell if you're willing to pay a couple hundred dollars more for the XPS 15z.
Dell, as usual, offers a slew of upgrade options–including faster CPUs, more system RAM, and GPUs with more memory–that can dramatically increase the price. Other components that are upgrade candidates include the 500GB, 7200-rpm SATA hard drive (you can opt for a 256GB solid-state drive); the 8X DVD burner (you can pay extra for a Blu-ray drive); the 56-watt, 6-cell lithium-ion battery; the keyboard (you can get a backlit one); and the Intel Centrino-based 802.11n, 2.4GHz Wi-Fi (upgrade options include dual-band 802.11n Wi-Fi, Bluetooth, and WiMax). It's disappointing that the basic model doesn't include Bluetooth.
The 2-megapixel integrated webcam, however, is quite nice as is, with Dell's Webcam Center software offering easy and intuitive controls (setup with the preinstalled Skype software was a breeze). The audio system consists of two 4-watt JBL speakers and a 12-watt subwoofer, plus Waves MaxxAudio 3 audio-enhancement technology. You also get two headphone jacks (unusual in a notebook), one of which supports SPDIF (direct digital) output, alongside the microphone-in jack. I wasn't able to try out the notebook's support for 3D content, but Dell says that if you get the optional Blu-ray drive, it can stream a 3D movie to a 3D-enabled HDTV (over an HDMI connection).
The port array is fairly typical and includes two USB 3.0 ports, a combined E-SATA/USB 2.0 port, an SD/MMC and Memory Stick Pro reader, and ports for HDMI and gigabit ethernet. There is, however, no ExpressCard slot. Above the keyboard, a thin, dark, glassy strip features several indicator lights (one shows the status of Wi-Fi, for example) and three backlit touch-sensitive controls (they light up when you touch the area). One of these controls brings up a window with audio settings, and another summons the Dell-customized Windows Mobility Center, which affords easy access to settings for a dozen or so features ranging from screen brightness to wireless radios. I would have preferred an exterior hardware button for turning Wi-Fi on or off. The third touch-sensitive control is user-customizable to launch the application of your choice.
Dell's consumer software bundle includes a smattering of apps that you may or may not find useful, including the PhotoStage image organizer, Cosi Family Calendar, Roxio Creator Starter (for burning DVDs and CDs), and Skype, plus the now-ubiquitous Microsoft Office 2010 Starter edition (ad-supported versions of Word and Excel).
Overall, the Dell XPS 15 L502X does a very good job with multimedia, and a fair to middling one with everything else. Its size and battery life preclude serious consideration by airport denizens, but if you're a general user who also likes to play a few games and watch movies when you're not working, it's well worth a look.