Microsoft might release an early build of Windows 8 to the technical community next week, but don't count on it.
The company is holding its Worldwide Partner Conference from July 11 through July 14. According to the Twitter account of MSFTtm, which has reportedly proven accurate with Windows 8 build details in the past, Microsoft will release a Community Technical Preview (CTP) at the conference.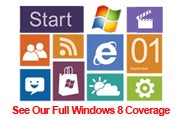 It's a shaky rumor. ZDNet's Mary Jo Foley, a reliable source for Microsoft intel, recently reported that a CTP build may arrive at the end of July, with a proper beta release arriving in September. Even if MSFTtm's conflicting report panned out, the CTP build wouldn't be intended for end users. With previous versions of Windows, Microsoft has recommended these early builds only for developers, IT professionals, and the technical community.
Either way, expect Windows 8 to play a role in next week's conference, which is meant to prepare Microsoft's partners for the year ahead. WinRumors spoke to a pair of company insiders who said Microsoft will detail its next PC operating system "substantially." More details should arrive in September, when Microsoft will hold its BUILD conference for developers.
So far, Microsoft has provided a glimpse of Windows 8's tablet side, with details on the traditional desktop interface only revealed in leaks and rumors. Possible Windows 8 features include a ribbon-based toolbar, an app store, facial recognition, a "history vault" for improved back-ups, and the ability to sync activity across devices. Now may be a good time for Microsoft to start teasing some of those desktop features.
Follow Jared on Facebook and Twitter for even more tech news and commentary.