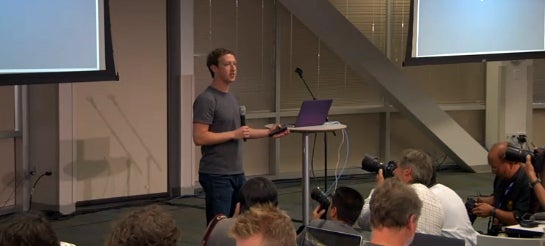 Facebook is finally getting a dose of video calling thanks to Skype.
The new feature is now live, and allows Facebook friends to initiate video calls with one or two clicks. Although Skype is powering the video calls, the app is installed directly in the Web browser and requires no other programs to download.
The video chat option will appear as an icon in Facebook's chat window and on each user's profile page. Users can now visit a video calling page on Facebook to get started.
Facebook video chat lacks frills. Unlike the Hangouts feature that Google introduced alongside Google+, there's no group video chat option, nor is there any way to watch videos together on other sites, such as YouTube.

But in a press conference, Facebook CEO Mark Zuckerberg didn't seem concerned about missing features. He noted that Facebook has spent the last five years building its social infrastructure, which stands at 750 million active users, and now Facebook is more focused on adding new applications than growing its user base. Compared its social infrastructure to the competition, Zuckerberg said "we're years ahead in wiring it up."

To that end, Zuckerberg said the coming weeks and months will see many new product launches from Facebook. Today, the company also introduced group chat, which lets users cobble together quick text chat sessions with their friends.
In Video: Here's How to Get Started on Facebook's Video Chat
Zuckerberg also had kind words for Microsoft, which in May announced plans to acquire Skype, and owns a minority stake in Facebook.
"Now that you guys are owned by Microsoft, that gives us a sense of stability that you're going to be with a company that we can trust," Zuckerberg said. (Skype CEO Tony Bates clarified that the acquisition hasn't gone through yet.)
Follow Jared on Facebook and Twitter for even more tech news and commentary.