Facebook's new video chat feature–touted in a demo today at the company's headquarters as extremely easy to use–proved buggy in our initial tests.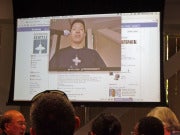 In Facebook's demo, representatives seemed to indicate that all you have to do to start chatting is to approve the video chat applet, which loads in your browser. They said that no download is necessary.
However, we found the software installation more complicated than it was in Facebook's demonstration. When we tested the new chat feature on both Windows and Mac PCs, we were prompted to download and install the video chat software outside the browser. This makes the chat setup no simpler than gChat's video-calling feature. (Note: Facebook's chat does not yet work on Linux.)
[Read: Group and Mobile Video Chat, Telephone Calling Likely Coming to Facebook]
In Video: Here's How to Get Started on Facebook's Video Chat
Once you've installed the software, the idea is that you should be able to initiate a video call with any of your friends. On every computer we tested with, however, the service looked and sounded extremely choppy. Video frame rates were extremely low, the audio cut in and out, and trying to chat with more than one person in a frame–as Facebook did in its demo today–resulted in even lousier video quality.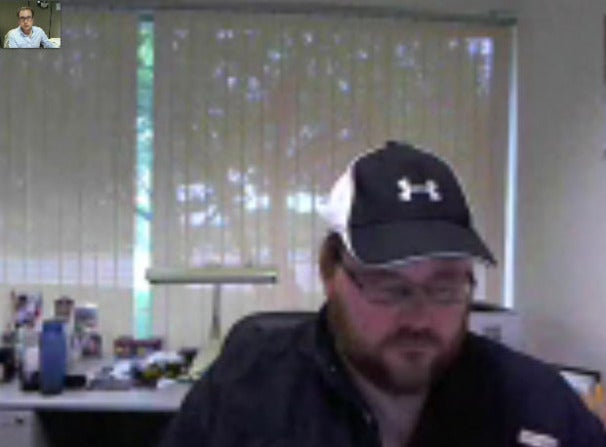 Though there's always the possibility of first-day jitters, Facebook confirmed in its Q&A today that the service was a direct peer-to-peer connection. This means that you're connected from your PC to the PC of the person you're trying to chat with, so server overload shouldn't be an issue. Perhaps the service simply needs a little more work.
In addition to the video and audio problems our testing produced, we encountered numerous bugs, including connection and install issues on multiple computers, failure of the chat to recognize cameras, failure of the software to install when Facebook reported that the software would be installed, and failure of the software to initiate chats. Overcoming most of these issues simply entailed reloading our Facebook window and trying again, but that's a far cry from the pick-up-and-play video feature for "your least tech savvy friend" that Facebook representatives touted it as being.
Integration With Video Voicemail
Facebook failed to mention in its press conference this morning that their new video chat integrates with their video voicemail. If your friend doesn't pick up when you try to initiate a video call, Facebook enables you to leave a video message for them instead. The message then waits as a streaming video clip until the next time your friend logs on or checks messages. While the video quality doesn't seem much better than in a regular video chat, such messages offer some interesting possibilities that Facebook could build on.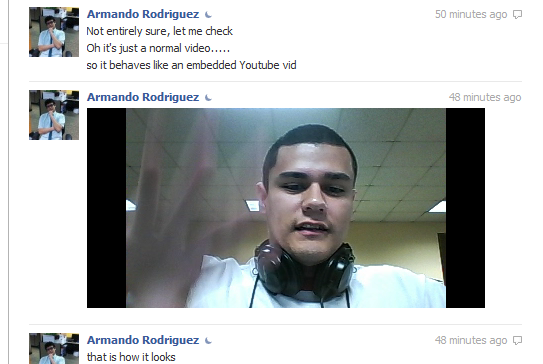 While there are a lot of exciting features here and in the other chat improvements–including group chat and a new chat interface that Facebook announced today–it all feels somehow unfinished and rushed into service. The timing of today's launch may have more to do with last week's Google+ announcement than with an engineering decision that the Facebook chat service was ready to go live.
Have you tested Facebook video chat yet? What are your impressions?