Facebook announced a new Skype-powered video-chat service and a group text-chat feature today, in a clear response to similar features included in the Google+ social networking service launched last week. The video-chat feature received most of the attention here today.
I got a quick up-close demo from Skype's product manager for the Facebook video-chat client, Mike Barnes, who cleared up a few early questions for me. I also chatted with Skype business manager Scott Miller and Facebook video-chat lead engineer Phillip Su.
PCWorld: Does the new video-chat service work on Macs?
Barnes: Yes, it works on all browsers except Opera.
PCW: How can I access the video-calling service in Facebook?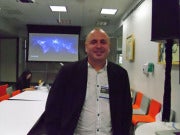 Barnes: You can call people using a video-call button on your friend's page. Or you can initiate a video call from within the Facebook Chat client.
PCW: Can I do an audio-only chat?
Barnes: Yes, but you have to disable your camera in the hardware setting in your computer. Skype has traditionally done voice calling first, and then video. But Facebook wanted the reverse: They wanted to focus on video, and have that come on automatically with the voice.
PCW: What if someone tries to video-chat with me, but I don't feel like chatting?
Barnes: The first time a friend calls you, a window pops up asking you if you want to start the video call. But at all times after that, the chat begins automatically. So if you don't want to video-chat, you can become invisible by tweaking your setting within the chat client in the same way you become invisible for text chat.
PCW: As far I can tell, you can't say you're available to chat with one person and not another.
[Read: Facebook Video Chat: First Tests Show Buggy Results]
PCW: So can I start using the new feature today?
Barnes: The video-chat feature will roll out to all 750 million Facebook users in the next seven to ten days, reaching 10 percent of the user base by this Friday.
PCW: How does the install process work exactly?
Barnes: You go to facebook.com/videocalling and download a small add-on program. If you don't have the add-on installed yet, and someone video-calls you, a window pops up asking you if you want to install the add-on program. After you click 'yes', the call automatically sets up with your friend.
[Note: Facebook video-chat lead engineer Phillip Su explains that if the service has not yet rolled out to you, and someone who has video chat installed calls you, at that point you are then allowed to download the add-on and start using video chat. Facebook does this because it wants the service to work no matter who the user tries to call. Also, after someone gets a video call and then is allowed to download the add-on, they're naturally going to want to keep using the service themselves, so it makes sense that they would be allowed to enable the service, Su says.]
PCW: Why can't I do group video calls from the Facebook service?
Barnes: Obviously, with the Google+ announcement last week, we are thinking about matching that offering. We have already built the group video chat functionality as a premium service on the Skype desktop client. And because Skype is a modular system, it would not be difficult to add the functionality. Because the technology has already been built, it would not take much work at all to add it to the Facebook product.
In Video: Here's How to Get Started on Facebook Video Chat
Mobile-Chat Possibilities
Barnes adds that another module that is ready to add to Facebook video chat is the ability to do video chats with mobile devices. Barnes gave me the distinct impression that Facebook will soon be adding both group video chat and mobile video chat in the near future. Even though those features are not ready to launch currently, Facebook needed to announce the core part of the service now, as a way of answering the Google+ announcement of last week and to take the media spotlight off of Google's social networking.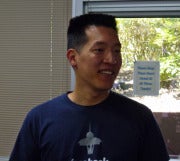 I asked Facebook's Su if group and mobile chat are coming to Facebook soon. He said the same thing the Skype people said: that it would be relatively easy to do from a technological point of view. Su notes, however, that Facebook has not been working on those features yet. Su says he and his team have not been designing their product to match the features in the Google+ Hangout video-chat service, but rather to make the one-to-one chat service extremely easy to use for the non-tech-savvy.
PCW: Will I be able to make calls to cell phones and home phones from Facebook using Skype?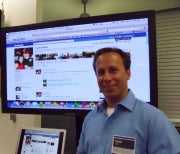 Scott Miller (Skype director of global business development): Yes, we will soon be adding the capability to make calls via the PSTN (public switched telephone network) from Facebook in the near future.
PCW: Aren't you worried that Skype users will leave their desktop clients and start doing all their video chatting and voice calling from Facebook?
Miller: Skype currently has 170 million users, and Facebook has 750 million users. So obviously it was in our interest to get as many Facebook users using our platform as possible. Whether they use our platform using the desktop client or on Facebook, it's a good thing for us because we are expanding the reach of our service.