Details about Apple's next-generation iPhone continue to leak out.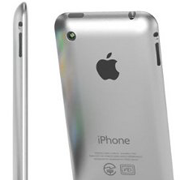 The latest word is courtesy of The Wall Street Journal, which is joining other reports that Apple is readying its new iPhone for a third-quarter launch.
OK, the Q3 launch information is a tad musty at this point, but other details in the WSJ story paint a clearer picture of what we'll see when Apple unveils its latest, greatest mobile phone in either August or September.
The new iPhone will be "thinner and lighter" than the already-svelte iPhone 4, according to the WSJ's sources. Given Apple's obsession with wafer-thin gadgetry — consider the anorexic iPad 2 and MacBook Air, for instance — that's no shocker.
A May report from DigiTimes said the new iPhone will have a curved glass screen, and it remains to be seen how Apple may (or may not) integrate these design elements into a phone that stands out among the smartphone crowd.
The new iPhone will feature an 8-megapixel camera, the WSJ reports. Sony CEO Howard Stringer also spilled the beans on this enhancement some three months ago.
The next-gen iPhone's slim-jim design may be creating problems for Apple's manufacturing partners that build the device, however.
Squeezing multiple components into increasing thin iPads and iPhones is proving to be a challenge for Taiwan-based Hon Hai, the world's largest contract manufacturer. The lower yields are hurting the company's profits, the WSJ reports.
In fact, shipments of the next-gen iPhone may be delayed if Hon Hai can't improve the yield rate of the handset, which is reportedly "complicated and difficult" to make.
Apple is confident that consumers will embrace the new iPhone as enthusiastically as they did the iPhone 4 — perhaps even more so. The company hopes to sell 25 million next-gen iPhones by the end of the year, an aggressive sales goal for a device that probably won't ship before September at the earliest.
Then again, Apple has good reason to be confident. It sold 18.65 million iPhones in its fiscal second quarter, which ended March 26.
Contact Jeff Bertolucci via Twitter (@jbertolucci) or at jbertolucci.blogspot.com and follow Today @ PCWorld on Twitter.