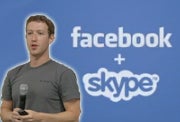 Facebook unveiled a Skype-powered video calling service on Wednesday along with a few upgrades to the website's chat client. The feature is certainly a welcome update, but will it be enough to help the social network stay competitive with Google+?
Not That Awesome
Sure, video calling is nice, but when Facebook promised to launch "something awesome" I was thinking it had a pretty big trick up its sleeve. Don't get me wrong — video calling may be the wave of the future, but it already was built into of Gmail since 2008. That puts Facebook three years behind the curve and makes this announcement a major yawn.
Facebook admits video calling has been around for a while, but it says that combining its user base with Skype makes it more convenient than ever.
"Video chat has been around for years now, but it's still not an everyday activity for most people. Sometimes it's too difficult to set up, or the friends you want to talk to are on different services," Philip Su writes on the Facebook blog.
The Numbers Game
Facebook certainly has numbers on its side. CEO Mark Zuckerberg made sure to mention that the site now has 750 million active users during his "awesome announcement" on Wednesday. Mike Barnes, Skype product manager for Facebook video-chat, told my PC World colleague Mark Sullivan that the service will be available to all of the social network's users within a week or so.

Google, on the other hand, has been somewhat silent on how many users it is allowing in the Google+ test. Our best estimate came when more than 64,000 Google+ accounts signed up to use a vanity URL shortening service called gplus.to. Granted, there are probably tens — if not hundreds — of thousands more trial users than that (we know that there were about 140 million Gmail users as of February 2010) but it's safe to assume that Facebook has the upper hand when it comes to numbers.
Features War
The elephant in the room Wednesday was the Google+ video chat service called Hangouts. The service could pose a serious threat to Skype and Facebook because it's free, browser-based, allows up to ten people in the same video chat room, and lets the group watch videos together. The Facebook/Skype solution is also free and browser-based but it doesn't let the group watch videos together and only allows a one-on-one video chat — for now.
Skype's Barnes says the service might change to include group video chats (which are already available as a premium service via Skype's desktop client). He said making the existing feature work with the Facebook product wouldn't be too hard.
If they roll out an update that includes group chat before Google+ goes public, it could be enough to derail some of the new site's momentum.
Both sides are playing the game with a different playbook. Facebook is confident in the user base it has built and is working to add features to stay on top. Google's new project lacks users but in many ways makes up for it with a fresh take on social networking, additional features and the buzz of exclusivity.