It's chest-beating season in the download race between Apple's App Store and the Android Market. In the latest dose of braggadocio, Apple said in a press release Thursday that it reached the 15 billion mark for total app downloads from the iTunes App Store.
"In just three years, the revolutionary App Store has grown to become the most exciting and successful software marketplace the world has ever seen," says an unhumble Philip Schiller, Apple's senior vice president of Worldwide Product Marketing. Schiller goes on to note that the App Store has been filled by over 425,000 apps, including 100,000 iPad apps, and 200 million users in 90 countries.
The release also claims that $2.5 billion dollars has been paid out to app developers so far.
The announcement comes a few weeks after Googlers started throwing out numbers at public events showing the Android Market is quickly approaching the 5 billion download mark, and that the last billion downloads were added in only two months.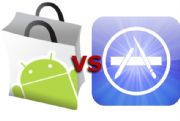 And here's where the numbers game starts to get a little fuzzy. While a billion downloads in 60 days is impressive, Apple went from 10 billion to 15 billion downloads in less than 6 months-that's almost a billion downloads per single month.
But before we crown Apple the clear download king, Google would like you to consider the trajectory of the Android Market's growth, which took two years to reach its first billion in July of last year. That means that the rate of growth in the number of total downloads increased almost ten-fold this year. If such exponential growth were to happen again, we could be looking at 40-50 billion total Android Market downloads around next fourth of July.
Such grandiose numbers may seem far-fetched, but with recent estimates that half a million Android devices are being activated each day, it seems the sky is the limit.
So let the boasting war continue, I suppose, let's just hope Apple and Google are careful not to bruise their chests.