Facebook's promised "awesome" new feature failed to excite critics, but the new Skype-powered in-browser video chat service is probably a welcome addition for Facebook users. Skype-powered video calling finally puts Facebook's instant messaging service on par with similar services such as Google Talk, Yahoo and Windows Live Messengers, and, well, Skype.
But the bar has been set much higher for Facebook thanks to Hangouts, a video calling feature for Google+, the search giant's new social network. Hangouts lets you chat with up to 10 people at once, while Skype-powered Facebook video calling is strictly one-on-one.
But feature match-ups are just one way to measure competing services. Facebook also has a huge advantage since the company said its service would reach more than 750 million Facebook users. It's unclear how many people are using Google+ at this point, but it's a safe bet the search giant's social network numbers falls far short of Facebook's popularity.
Let's take a look at what Hangouts has to offer versus Facebook and see how each service measures up.
Getting started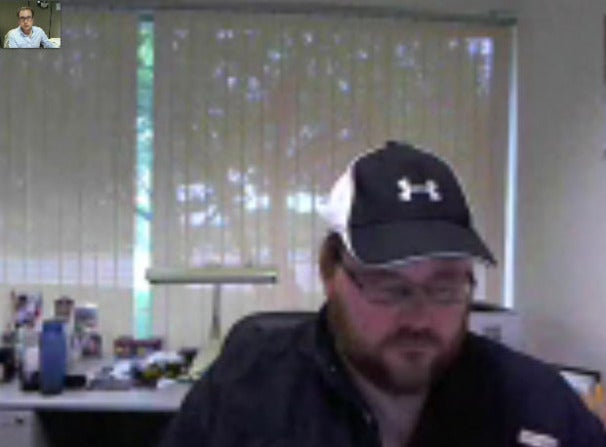 To get started with in-browser Facebook video calling you have to activate the service for your account, if Facebook hasn't rolled it out to you yet. Then you just initiate a one-time in-browser applet download the first time you make a video call. Early impressions are mixed about how easy it is to setup Facebook video calling. My colleague David Daw tested the new feature on several Windows and Mac PCs. In his tests, Daw found that downloading the applet tended to be a pain. But when I got started with Facebook video calling on a Mac running Firefox, I found it to be pretty quick and painless.
Google+ users may have a slightly harder time getting Hangouts started depending on whether you are a regular Gmail user. Hangouts requires Google's video chat plugin, which is a separate download you have to install on your system. But if you've been using video chat in Gmail, you already have everything you need.
Usability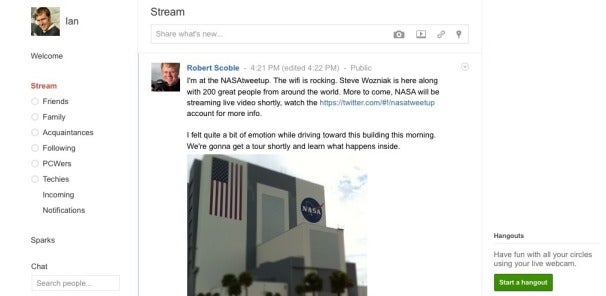 Once you're up and running, both Hangouts and Facebook video calling are pretty easy to initiate. In Facebook, you can either click on the video icon in your chat window or click on the "Call" button on a friend's profile page when that person is online. To start a Hangout, you click on the green "Start a hangout" button toward the bottom of the right hand column on your Google+ home page and wait for others to join.
Feature showdown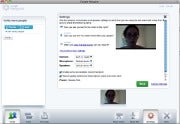 Although features don't guarantee a win, this is where Google+ Hangouts really shine. Hangouts let you chat with up to 10 people at once and whoever is speaking gets the focus, meaning less chaos when you're trying to figure out who's talking to you. You can also watch YouTube videos in sync and Hangouts will automatically mute everyone so that people aren't talking over the video. You can, however, interject comments by clicking the red microphone button at the bottom of the chat window to talk.
Facebook's video calling feature set is far more basic: the service lets you make one-to-one calls and that's pretty much it. You can, however, leave video voice mail for friends who don't respond to your video call. Facebook also announced a group text chat feature, something that first debuted with the new Facebook groups, that lets you add people to a chat on the fly. Google+ also has a group chat feature called Huddle, an Android-only feature (an iOS app is the works) that is not available on your PC.

Compatibility
Hangouts has a slight edge over Facebook when it comes to compatibility with different systems and browsers. Both Hangouts and Facebook video calling are available for Windows and Mac, but Hangouts also supports Debian-based Linux distributions such as Canonical's Ubuntu. Facebook video calling doesn't support Linux yet. The two video services also don't officially support the niche browser Opera. However, I was able to get Hangouts working in Opera, but Facebook video calling wouldn't even let me try.
It's not clear if Facebook plans to respond to Google+ by adding group video chat in the future. Skype added group video chat in 2010 for up to five people, so the technology is available. But Skype's group video chat is a premium service so Skype may be unwilling to offer the feature to Facebook users at no charge.
In the end, however, it may not matter as Facebook has a large user base that could be satisfied with intimate one-to-one video chat instead of Google+'s public Hangouts.
Connect with Ian Paul ( @ianpaul ) and Today@PCWorld on Twitter for the latest tech news and analysis.