The Toshiba Thrive, the latest tablet to challenge the Apple iPad, will be available July 10 at Best Buy stores, the U.S. electronics retailer announced today.
The new Android tablet has a 10.1-inch display with 1280-by-800 resolution. By comparison, the iPad 2's 9.7-inch screen is 1024 by 768. The Thrive is priced competitively with the iPad, too. The $480 model has 16GB of storage, runs Android 3.1 (Honeycomb), and has an NVidia Tegra 2 dual-core processor. It features a front-facing 2-megapixel webcam, and a 5-megapixel rear-facing camera, too. A $580 model has 32GB of storage.
The Thrive comes in a Wi-Fi version only, whereas Apple sells both Wi-Fi and Wi-Fi/3G versions of the iPad. Toshiba's tablet is a bit thicker and heavier than both the iPad 2 and the Samsung Galaxy Tab 10.1 as well.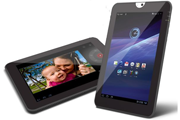 In a recent hands-on preview of the Thrive, PCWorld's Melissa Perenson praised the tablet's connectivity features, which include an SD Card slot and USB port; mini-USB; and a full-size HDMI port.
"Those four ports translate to some extraordinary possibilities that expand just how you may be able to maximize using this Android tablet — especially in light of Android 3.1 gaining USB host functionality for adding USB devices," Perenson wrote.
Is the Thrive an iPad killer? Nope. But it just might appeal to Android smartphone users who don't need or want a tablet with built-in 3G wireless.
Contact Jeff Bertolucci via Twitter (@jbertolucci) or at jbertolucci.blogspot.com and follow Today @ PCWorld on Twitter.